A Blast From The Past with Author Anita Dickason
"Viciously attacked. Framed for murder. Turning thirty."
"Laramie Harper Thompson is having a horrible weekend. Strangers viciously attack her, she finds a dead body, and the police arrest her for murder. The worst thing, though? She is turning thirty."
What an intriguing teaser. I'm always On The Hunt to find new books to add to my list of favorite reads. My latest discovery was due to an unexpected blast from my past.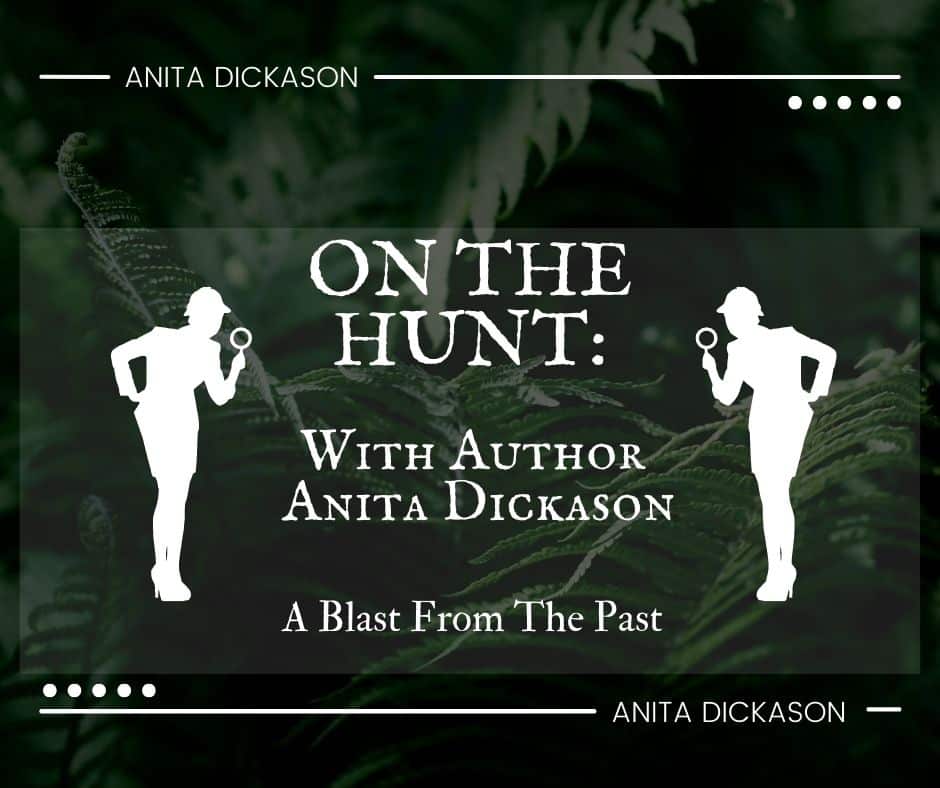 It started when I received an email from a fellow Dallas police officer who, like me, had turned to writing novels in her retirement. What fun to connect with someone that I had worked with years ago. Even more so when I learned Jamie Keough and her husband Paul, another Dallas officer, had moved to Ireland.
Wow, living in Ireland. How exciting. Along with books, I have had a lifelong love affair with the myths and legends of the Irish. What a rich history. The October article for my On The Hunt column dealt with an ancient Irish myth about the origins of the Jack O' Lantern.
Jamie and I began trading emails, comparing our writing experiences and how our police background played into our plots and characters. When she mentioned her first novel, and the title, Dying in Dallas, I couldn't wait to read it. I discovered a spellbinding blend of realism and urban fantasy. 
I have a few books that qualify as page-turners, and this is one. Considering werewolves and vampires aren't in my wheelhouse of genres I typically read, it says something when it's a book I couldn't put down. I stayed up until the wee hours of the morning to finish it.
The characters and plot effortlessly flow, sucking, no pun intended, the reader into the story. This is one I highly recommend.
"When young widow Laramie takes a break from renovating her Victorian home to celebrate her birthday, she just wants to live a little. But when she becomes an unwitting pawn in the hunt for a centuries-old relic, she gets more action than she bargained for.
After a rough night out, Laramie returns home with a killer hangover and vague memories of being attacked, only to find a dead community activist stuffed into her dumbwaiter. As if that isn't bad enough, police believe she is the murderer.
Her dead husband's best friend, Van, vows to help her. When he tells her that her attackers were werewolves and a vampire saved her life, Laramie's sure one of them has gone around the bend. But her dog, Bodacious, fears her, and she can't deny the changes happening in her body, or her craving for blood.
With only seventy-two hours before The Change is complete, Laramie must prove her innocence and find the vampire who turned her so the process can be reversed. She wants to trust Van, but he comes from a long line of vampire hunters, and he seems to know a lot more about what's going on than he is willing to share. Is he there to help her, or to put a stake in her heart if she can't stop The Change?
Find it on: Goodreads ~ Amazon ~ BookBub
Getting to know the Author, J.C. Keough
"J.C. Keough is the creator of Laramie Harper Chronicles and the Cheese Louise Cozy Mystery series. Jamie is currently working on books in both published series and the first book in a new series named The Texas Tender Mysteries. The Tender Mysteries will combine beer, boats, murder, and ghosts.
Jamie grew up in a small town in the great state of Texas. At the first opportunity, she escaped to what felt like a metropolis, but in reality was only a medium-sized town, to attend university. Go Rams! After graduation, she landed in Big D (Dallas), an actual metropolis, where she embarked on a career in law enforcement.
After twenty-five years of wrangling the citizens of Dallas, Jamie retired from police work. At her husband's insistence, they pulled up stakes and moved, lock, stock, and dogs, to Ireland. There, Jamie combined her love of wine, dogs, history, and Bumpies (all things that go bump in the night), and The Laramie Harper Chronicles were born.
Jamie lives in a small town (oh, the irony!) on the southwest coast of Ireland with her husband Paul, also a retired Dallas police officer, and two fur divas who are remarkably similar to Bo and Yella."
You can follow Jamie on her website: https://jckeough.com/
https://www.facebook.com/jckeough
If you have a question or comment, please let me know. I'm always "On The Hunt" for ideas, authors, books, and anything bookish.
Please subscribe to my newsletter, Book Chatter & More, to learn more. Subscribers receive a free download of my paranormal suspense, The Foretelling. My way of saying thank you.
Until next time, take care and stay safe.
Anita Dickason
Anita Dickason
Anita Dickason is a retired police officer with a total of twenty-seven years of law enforcement experience, twenty-two with Dallas PD. She served as a patrol officer, undercover narcotics officer, advanced accident investigator, tactical officer and first female sniper on the Dallas SWAT team.