Welcome to the Great Escapes Virtual Book Tour for A Study In Chocolate by Amber Royer!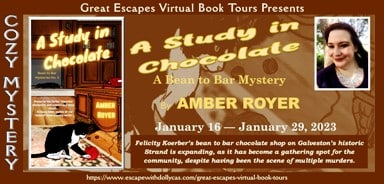 About A Study In Chocolate:
Felicity Koerber's bean to bar chocolate shop on Galveston's historic Strand is expanding, as it has become a gathering spot for the community, despite having been the scene of multiple murders. Artists she met while doing a chocolate sculpture are now working out of the shop. So when Felicity is invited to tea by an eccentric art collector, she's intrigued, especially when she gets asked to pose for a portrait done with chocolate on chocolate. Only, where there is a murder the next day at the same historic house where the tea was held, one of Felicity's artist friends becomes the main suspect.
When the killer threatens that, unless Felicity unravels the murder, one of her two love interests will be the next victim, she finds herself unwittingly at the center of a puzzle, with a Sherlock Holmes obsessed murderer who wants to be the next Moriarty – and wants to cast Felicity as Sherlock.
Felicity starts finding unexpected connects between her friends and acquaintances, and has to deal with the idea that someone who knows her is a murderer. At the same time, she has to keep her business running, despite construction dust and unruly customers – and an unexpected order for thousands of truffles.
Satchmo the retired police dog turned therapy dog returns to help her sniff out a few clues, and the kidnapping of Ruffles, the quirky artist's cat, helps lead Felicity into the puzzle. Can Felicity solve it in time to protect the people she cares about from becoming additional victims?
You can find A Study in Chocolate (and the rest of the Bean to Bar Mysteries) on: Goodreads, Bookbub, Amazon, StoryGraph, Bookshop.org
A Study in Chocolate Guest Post from Amber Royer
I love playing with tropes from different types of stories inside my cozy mysteries. The new release in my Bean to Bar Mysteries, A Study in Chocolate, has my craft chocolate maker Felicity discovering the art of painting on chocolate. Felicity enters the world of art more solidly in this book (in a previous one, she was commissioned to make a chocolate sculpture). This time, she even discovers she has a favorite painter, when she previously thought she didn't care enough to find one. Because of that, it felt right to add in a few art forgery/art heist tropes more usually found in other types of mysteries.
Adding in those kinds of elements made it a balancing act to keep the book a cozy, without letting another genre take over. To do that, I kept the murder-solving front and center. Felicity goes to a tea party hosted by a famous art collector. He asks her to figure out who has been threatening him. Felicity says she can't protect him – she's not even officially a detective. Only – the next day, he winds up dead. She feels guilty for not being able to talk him into going to the authorities, or hiring someone else. So she goes outside her comfort zone to figure out what happened to him—and learns more about people she thought she knew in the process.
Felicity also learns a lot about herself. She's moving forward emotionally. (She started the series as a recent widow, stuck in the past and unable to accept the support people are offering her in the present.) She's already begun embracing her own capacity for creativity, and to see her work as a chocolate maker as an artistic outlet. Now, she gets to explore what art means to her in the deeper sense, visiting galleries and talking to people who paint professionally.
When I was researching the book, my husband and I did the Art Walk in Galveston, and got to chat with a few local artists ourselves.  It was a fun event, showing off a different side of the island, and I learned about a number of new-to-me artists.
I live in the Dallas area, and just this week I went back to the Dallas Museum of Art with some friends.  It was the first time since the pandemic that I'd visited the museum.  It was cool to go back and see some of my favorite paintings.  (I've always been a big fan of the impressionists, and they still have the two Monets on the center wall of the exhibit. 
They have a Van Gogh, but my favorite painting of his is Café Terrace at Night, and I thought I wouldn't see it there – but to my delight, there was a scarf printed with the painting in the museum's gift shop.)  It was interesting, too, to see how much had changed, and to find a few new favorites (such as a folding screen painting of Mount Fuji – which was personally meaningful, now that we have visited that mountain).
And of course, I was different too. Every book I write helps me focus in on a subject I'm interested in and forces me to think about it in new ways. Trying to see the art with the open wonder of Felicity finding a favorite artist made me put aside what I assumed would always be my favorites and try to see what art would appeal to her. Looking through someone else's eyes at something you think you know is obviously going to broaden your perspective.
That may sound contemplative, but I tried to keep the book fun and light, so expect humor and misunderstandings, forgery and a bit of danger — and more chocolate than one person would reasonably be able to eat.
About Amber Royer
Amber Royer writes the CHOCOVERSE comic telenovela-style foodie-inspired space opera series, and the BEAN TO BAR MYSTERIES. She is also the author of STORY LIKE A JOURNALIST: A WORKBOOK FOR NOVELISTS, which boils down her writing knowledge into an actionable plan involving over 100 worksheets to build a comprehensive story plan for your novel. She blogs about creative writing techniques and all things chocolate at www.amberroyer.com. She also teaches creative writing and is an author coach. If you are very nice to her, she might make you cupcakes.  Chocolate cupcakes, of course.
Connect With Amber: Blog, Instagram, Facebook, YouTube, Twitter, Amazon Author Page, Goodreads
Win a Signed copy of this Chocolate Mystery!
a Rafflecopter giveaway