Q & A WITH TOD GOLDBERG AND PERFORMANCE OF HIS STORY, "THE SALT"
LINK TO VIDEO: https://tinyurl.com/3d8a8b3m
During the busy holiday season, I'm sharing a 2021 STORIES ON STAGE SACRAMENTO (https://www.storiesonstagesacramento.org) video performance by actor Philip Jacques of crime writer Tod Goldberg's story, "The Salt", from Tod's collection, THE LOW DESERT. Enjoy author Dorothy Rice's (https://www.dorothyriceauthor.com) witty, thoughtful, interview with Goldberg.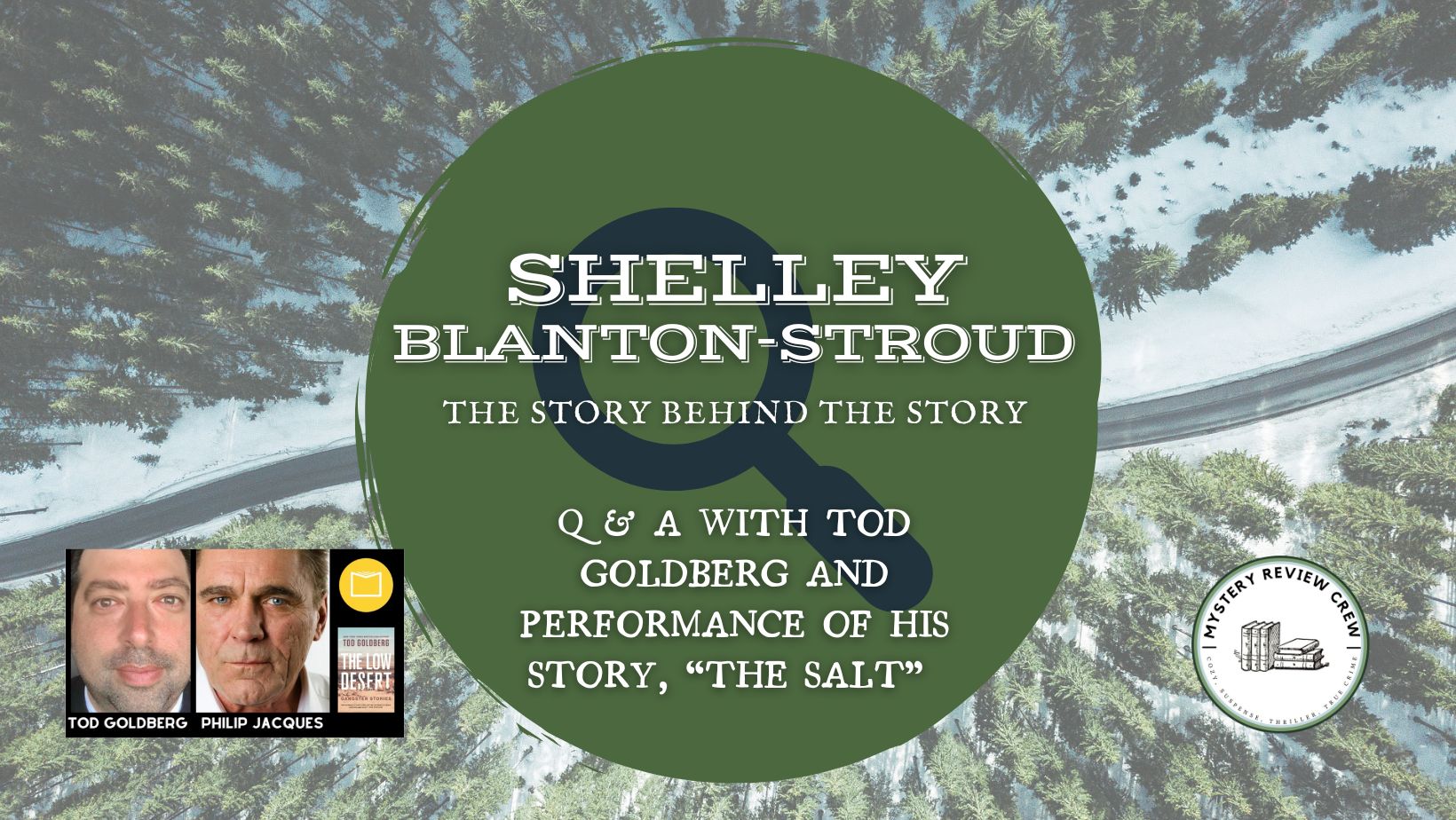 First, a little bit about Tod Goldberg (http://todgoldberg.com):
He is the New York Times bestselling author of over a dozen books, including THE LOW DESERT (named Southwest Book of the Year), GANGSTERLAND (a finalist for the Hammett Prize), GANGSTER NATION, THE HOUSE OF SECRETS (which he co-authored with Brad Meltzer), LIVING DEAD GIRL (a finalist for the Los Angeles Times Book Prize), and the popular BURN NOTICE series, three times a finalist for the Scribe Award. His books have been published in a dozen languages and around the world and were twice named a finalist for the VN international Thriller of the Year Award.
His short fiction has been collected in three volumes — Simplify, which won the Other Voices Book Prize and was a finalist for the SCBA Award, Other Resort Cities, and his latest book, The Low Desert: Gangster Stories — and has been widely anthologized, including in Best American Mystery & Suspense. His nonfiction has appeared in numerous publications, including the Los Angeles Times, USA Today, and the Wall Street Journal, among countless others, and has earned five Nevada Press Association Awards for excellence, while his essay "When They Let Them Bleed" was selected for Best American Essays. For his body of work, Tod was honored with the Silver Pen Award from the Nevada Writers Hall of Fame.
In addition to his work on the page, Tod is also the cohost of the podcast Literary Disco, along with Julia Pistell & Rider Strong, which has been named a top podcast by the Washington Post, The Guardian, Mashable, and even Good Housekeeping.
Tod Goldberg holds an MFA in Creative Writing & Literature from Bennington College and is a Professor of creative writing at the University of California, Riverside where he founded and directs the Low Residency MFA Program in Creative Writing and Writing for the Performing Arts. He lives in Indio, CA with his wife, Wendy Duren.
And a little about Dorothy Rice:
Dorothy Rice is the author of two memoirs published by small presses, the Small Press Distribution best-seller GRAY IS THE NEW BLACK: A Memoir of Self-Acceptance (Otis Books, 2019), and THE RELUCTANT ARTIST (Shanti Arts, 2015), a hybrid art book/memoir. She also edited the anthology, TWENTY TWENTY: 43 Stories from a Year Like No Other (Stories on Stage Sacramento, 2021).
Her essays, stories and flash fiction and nonfiction have been widely published in literary journals and magazines, including The Rumpus, Hippocampus, Brevity online and The Saturday Evening Post. Her fiction has been nominated for a Pushcart Prize and Best of the Net, recognized several times by the regrettably defunct Glimmer Train Magazine, and long-listed for the 2018 Bath Flash Fiction Award. Her essay "In Photographs" was awarded second place in the 2018 Kalinithi Awards. Her essay "Fathers and Daughters" was one of ten finalists in Tiferet Journal's 2021 nonfiction contest.
Dorothy is also the Managing Editor at Under the Gum Tree, a reader supported, quarterly literary arts magazine, publishing creative nonfiction and visual art. She also works for 916 INK, a Sacramento-area nonprofit, facilitating creative writing workshops for kids grades 3 through 12, including incarcerated youth (using the AWA method), and provides developmental editing and coaching services for writers .
At age 60, following a 30-year career managing solid waste, hazardous waste and water quality programs with the California EPA (her last position was Executive Director of the California State Water Resources Control Board), and raising five children, Rice earned an MFA in creative writing from UC Riverside's low-residency program. A San Francisco native, Dorothy now lives in Sacramento.
A link to an interview with actor Philip Jacques by Jessica Laskey.
Salt is a moving story about an aging detective confronting another dead body washed up in the Salton Sea.
Here's how "The Salt" begins:
Beneath the water, beneath time, beneath yesterday, is the salt.
The paper says that another body has washed up on the north shore of the Salton Sea, its age the provenance of anthropologists. "Washed up" is a misnomer, of course, because nothing is flowing out of the Salton Sea, this winter of interminable heat: it's January 10th and the temperature hovers near one hundred degrees. The Salton Sea is receding back into memory, revealing with each inch another year, another foundation, another hand that pulls from the sand and grasps at the dead air. Maybe the bodies are from the old Indian cemetery first swallowed by the sea in 1971, or perhaps they are from Tom Sanderson's family plot, or maybe it is my sweet Katherine, delivered back to me in rusted bone.
Enjoy the performance.
LINK TO VIDEO: https://tinyurl.com/3d8a8b3m
About
Shelley Blanton-Stroud
I grew up in California's Central Valley, the daughter of Dust Bowl immigrants who made good on their ambition to get out of the field. I recently retired from teaching writing at Sacramento State University and still consult with writers in the energy industry. I co-direct Stories on Stage Sacramento, where actors perform the stories of established and emerging authors, and serve on the advisory board of 916 Ink, an arts-based creative writing nonprofit for children. I've also served on the Writers' Advisory Board for the Belize Writers' Conference. Copy Boy is my first Jane Benjamin Novel. Tomboy (She Writes Press 2022) will be my second. The third, Poster Girl, will come out in November 2023. My writing has been a finalist in the Sarton Book Awards, IBPA Benjamin Franklin Awards, Killer Nashville's Silver Falchion Award, the American Fiction Awards, and the National Indie Excellence Awards. I and my husband live in Sacramento with an aging beagle, Ernie, and many photos of our out-of-town sons and their wonderful partners.
To find out more about Shelley Blanton-Stroud and her books, and to sign up for her newsletter, go here. https://shelleyblantonstroud.com