This week we're On The Hunt with Anita Dickason featuring: Crime of the Past!
It's not the Old West, but it's just as dangerous.
Undoubtedly, cattle rustling is a symbol of the Old West. One characterized by long, dusty cattle drives, chuckwagons, weathered cowboys with lariats astride their horses, and gunfights.
A crime of the past, not one in the modern-day era.
I have lived in Texas most of my adult life and worked for twenty-seven years in the Texas law enforcement community. I never heard about or came across anyone stealing cattle. As a matter of fact, before I joined the Dallas Police Department, I worked for a local sheriff's department. We patrolled the county. The closest I came to a problem with cattle was when one would escape and get on the road. For drivers, it could be a deadly encounter. It wasn't easy getting an animal weighing hundreds of pounds to want to go back to the other side of the fence, a Keystone Cops routine. I probably should put such experiences under my heading of unusual encounters—the intrepid deputy sheriff faces off with a cow.
Several years ago, I was involved in a project for a TV series about the Seminole Tribe in Florida. While the series never got off the ground, I did learn a lot about the Seminoles during my research. One of the articles I came across dealt with the theft of a high-dollar bull. The animal's DNA was on file with the local cattlemen's association and became instrumental in locating the stolen bull. At the time, I thought it would make a great story.
It wasn't until I finished Going Gone that I came back to the idea of cattle rustling. Three characters are brothers and former Navy Seals who live in East Texas. The brothers play a minor but significant role in the plot. I considered using one of the brothers in a spinoff about Texas cattle rustling.
Still, the idea never took off because I was diverted by another article. This one was about a bill that Texas Governor Abbott signed into law and led to Au79. Though, I didn't forget about the DNA and cattle rustling. It still buzzed in my head whenever I started thinking about plots for books.
Another article popped up on my radar shortly after I finished Operation Navajo. It detailed an investigation by a Special Ranger and the subsequent arrest of individuals defrauding ranchers with a financial scheme to steal their cattle. Now, how interesting was this? I needed a plot for a new book, and here was an article about cattle rustling and white-collar crime. I couldn't resist. It was fate. Plus, there was another intriguing facet, Special Rangers. Something else I didn't know. I had never heard of a Special Ranger in all those twenty-seven years. I had to learn more.
Crime of the Past? or is it Crime of the Present?
When I started to dig into the topic, I was astonished. Cattle rustling, this crime of the past, was alive and well in Texas. To the tune of millions of dollars every year. Stealing cattle was more lucrative than breaking into a house. Why steal a TV and get a few bucks when you can steal cattle and get several hundred or even thousands of dollars for each one? In addition, the crime had gone high-tech with the advent of the internet. Cattle rustling had entered the white-collar category of financial fraud. And DNA had become a significant factor in cattle breeding.
My search led me to the Texas and Southwestern Cattle Raisers Association, headquartered in Fort Worth, Texas. Special Rangers, a unique group of officers, are the Association's law enforcement division and are on the front lines of fighting a crime that dates back to the days of the early settlers.
The Association originated in 1877. Forty ranchers banded together in Graham, Texas, to form the Stock-Raisers' Association of North-West Texas. Their purpose—stop cattle thefts in the region. The Association merged with the Panhandle and Southwestern Stockmen's Association in 1921, and the name changed to Texas and Southwestern Cattle Raisers Association.
In 1893, Special Rangers were appointed as peace officers. A significant difference between a Special Ranger and Texas Ranger is who pays the salary. Texas Rangers are paid by the State of Texas. Special Rangers are paid by the Texas and Southwestern Cattle Raisers Association. In addition, many of the Special Rangers have dual law enforcement certifications, Texas and Oklahoma. It means they have the authority to investigate cattle rustling offenses in Oklahoma.
Special Rangers serve in a unique niche in the Texas law enforcement community. To even apply for the position, prior law enforcement experience is required. Tracking down modern-day rustlers, whether through the physical theft of the animals or tracing the financial fraud perpetrated against ranchers to steal their cattle, takes dedication and investigative skills. This small group of extraordinary law enforcement officers recover millions of dollars in stolen cattle and other agricultural crimes each year.
By the time I finished my research, I had all the elements for a plot about modern-day cattle rustling, a deadly business involving millions of dollars, and the officers who stop them.
One reviewer said, "Deadly Business by Anita Dickason is a modern day wild west story, with characters that read all too real. Fact and fiction is blended seamlessly, with a pace that made it impossible to put down."
I also found another unique feature in my research. A Special Ranger's attire isn't the traditional law enforcement uniform. Instead, it's blue jeans, western shirts, boots, cowboy hats, and one additional distinction. Their badge is on their holster. It's the reason the cover of Deadly Business has a Special Ranger's badge on the holster.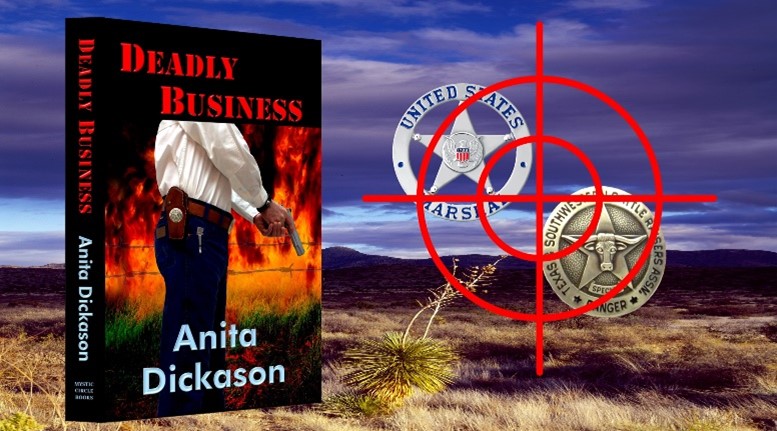 If you have a question or comment, please let me know. I'm always "On The Hunt" for ideas, books, and just about anything else that is bookish.
Please subscribe to my newsletter, Book Chatter & More, to learn more. Subscribers receive a free download of my paranormal suspense, The Foretelling. My way of saying thank you.
Until next time, take care and stay safe.
Anita Dickason is a retired police officer with a total of twenty-seven years of law enforcement experience, twenty-two with Dallas PD. She served as a patrol officer, undercover narcotics officer, advanced accident investigator, tactical officer, and first female sniper on the Dallas SWAT team.
If you liked Crime of the Past be sure to go On The Hunt with Anita's other Mystery Review Crew articles so you can make all the connections!