Gripping Texas Escapist Thriller Spirals to a Riveting Conclusion!
Following a tactical raid at an Oklahoma farm, a phone call sends U.S. Deputy Marshal Piper McKay rushing back to the East Texas cattle ranch where she grew up.
Her grandmother, Jennie Layton, is near death from a crushed skull. When local authorities claim the cause of the injury was an accident, Piper isn't convinced.
Who wants Jennie dead? Is the reason connected to a dubious contract Piper finds in Jennie's desk?
Piper realizes her grandmother isn't the only one in danger when she barely escapes a deadly attack. Thrust into the middle of a high-stakes, high-risk shell game, Piper has become the target.
The case takes a bizarre turn when Piper unknowingly crosses paths with a Special Ranger. If he can't derail her investigation, it could cost him his life.
With millions of dollars on the line, nothing will stop a ring of cold-blooded killers, including the murders of a U.S. Marshal and a Special Ranger.
Purchase on Amazon
Reviews of Deadly Business by Texas Bloggers
A couple of months back, I had the chance to participate in the cover reveal for Anita Dickason's Deadly Business. So I was delighted to have the opportunity to participate in the blog tour and review the book. And boy, am I glad I read it! I could not love this book more if I were twins. It grabs you by the heart and the throat from the beginning, and it does. not. let. up. If I hadn't had to work while I was reading Deadly Business, I probably would have stayed up and finished it all in one night. It's that good. I nearly got myself in trouble by reading past my lunch break at work. It's a well-written, engaging, hair-raising ride with a plot that rings true and characters you either love or love to hate. Give me more. Five bad-guy butt-kickin' stars. If you enjoy a good thriller, go grab this one. Quick.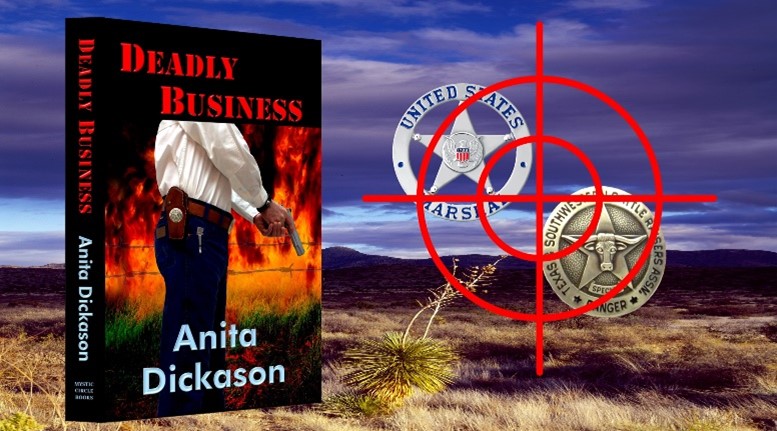 Ruthie Jones Reading by Moonlight
Deadly Business by Anita Dickason is a Texas-sized thriller that will astound you with its dead-on plot and brilliant characterization. The pace is fast, the writing is polished, and the characters are always on the move, with plenty of action and intrigue for the reader to chew on and figure out. With dramatic irony afoot, the reader pretty much knows what's going on before Piper and her team figure things out, but that insider information makes you appreciate even more the way Piper faces the trickery and deadly business head on, without flinching and without backing down even one step. She is one fabulous fighter you will no doubt love from the first page to the last. If you are ready for a quick read with plenty of Texas-sized fearlessness and mettle slugging it out with a steaming pile of evil and corruption, then dive into Deadly Business and appreciate first hand this spirited cast of characters and dynamic plot.
I'm always in for reading a Western. But who knew I was missing out on a whole genre with modern day Western in the guise of a crime thriller? Not me, that's for sure! DEADLY BUSINESS has everything I'm looking for in a novel. In this case, we have a U.S. Marshal, A Special Ranger, cattle rustling, UTV's instead of horses (but still has some horses!), a former rodeo clown, and a big shoot-out as the icing on the cake. Here are all the adjectives I can think of to describe the novel without spoiling anything:
Heart-pounding action
Page-turner
Engrossing
Thriller
Suspense
Attention grabbing
Ms. Dickason's excellent writing had me powering through the chapters, wanting to know what would happen next. The cattle ranching facts fit into the plot right along with the solving the different crimes, included attempted murder.
Teachers claim they do not have favorite students and as an editor, I also try to live by that. Every author I work with has a special place in my heart. But let's get serious – there are 4 in my world that may have a slightly larger spot in my heart. The ones that when I get the email that the next book is ready for me, I get a little more excited and a happier skip in my step. Anita Dickason is one of those. I fell in love with her stories long before I had the privilege of working with her. I would easily put her books up against any of the big names or New York Times bestsellers. In this book, Dickason uses all her personal knowledge, and a ton of research to portray U. S. Deputy Marshal Piper McKay as a woman to be respected and impressed with. Set in the heart of Texas with cattle rustling taking on a whole to meaning and advanced to the modern-day, I learned a lot about Special Rangers, the cattle business and even DNA.
I was privileged to participate in a cover reveal for this novel, Deadly Business last month, and I was so intrigued by the premise that I begged to review it. I'm glad I did, because this book was literally "unputdownable," keeping me enthralled from the first page to the last. Dropping the reader into the middle of a high-stakes action sequence at the very beginning, Anita Dickason could very easily have kept up an unrelenting pace, and this still would have been an entertaining read. Instead, she shows off her range and skill by resolving the initial situation, and then radically changing the tone, sending lead character Piper McKay home to her grandmother's Texas ranch, where the old woman was found thrown from a horse. From there, the author interweaves some quintessentially Texan elements like the modern version of cattle rustling, with the universal experiences of worrying about a beloved family member in the hospital, and the intricacies of what happens when U.S. marshals and Special Rangers (which are another Texas-specific element) are not the hunters, but the hunted.
My heartfelt thanks to the Texas Bloggers and Lone Star Book Blog Tours. https://www.lonestarliterary.com/lone-star-book-blog-tours
About the Author of Deadly Business, Anita Dickason:
Anita Dickason is a retired police officer with a total of twenty-seven years of law enforcement experience, twenty-two with Dallas PD. She served as a patrol officer, undercover narcotics officer, advanced accident investigator, tactical officer, and first female sniper on the Dallas SWAT team.