Story Behind the Story with Author Marilyn Levinson. Author Marilyn Levinson writes cozy mysteries, romantic suspense, and novels for young readers.
In particular, under her pen name, Allison Brook, Marilyn writes the Haunted Library Mystery Series, which has received many accolades. Death Overdue, the first book in the series, was an Agatha nomination for Best Contemporary Novel, a Library Journal Pick of the Month and on Goodreads' list of the 200 Most Popular Books Published in October 2017.
Author Interview with Marilyn Levinson AKA Allison Brook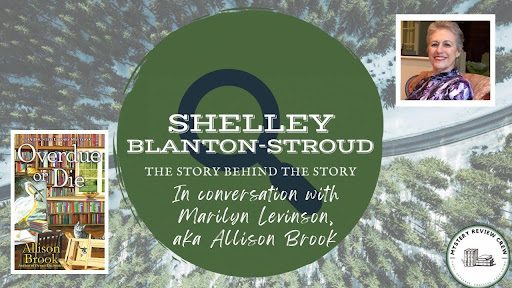 Author Shelley Blanton Stroud interviews Marilyn about her writing career and her Haunted Library Mystery series. Marilyn discusses her transition from writing children's books to mysteries and the development of her characters. She also talks about the defining elements of cozy mysteries and the importance of connecting with readers. Marilyn shares details about her most recent book, Overdue or Die, and how far she plans to take the series. 
You can learn more about Marilyn and her books here: https://www.marilynlevinson.com
You can learn more about Shelley and her books here: https://shelleyblantonstroud.com/
About
Shelley Blanton-Stroud
I grew up in California's Central Valley, the daughter of Dust Bowl immigrants who made good on their ambition to get out of the field. I recently retired from teaching writing at Sacramento State University and still consult with writers in the energy industry. I co-direct Stories on Stage Sacramento, where actors perform the stories of established and emerging authors, and serve on the advisory board of 916 Ink, an arts-based creative writing nonprofit for children. I've also served on the Writers' Advisory Board for the Belize Writers' Conference. Copy Boy is my first Jane Benjamin Novel. Tomboy (She Writes Press 2022) will be my second. The third, Poster Girl, will come out in November 2023. My writing has been a finalist in the Sarton Book Awards, IBPA Benjamin Franklin Awards, Killer Nashville's Silver Falchion Award, the American Fiction Awards, and the National Indie Excellence Awards. I and my husband live in Sacramento with an aging beagle, Ernie, and many photos of our out-of-town sons and their wonderful partners.
To find out more about Shelley Blanton-Stroud and her books, and to sign up for her newsletter, go here. https://shelleyblantonstroud.com