Are you ready for 40 of the best Mystery and Crime Audiobooks to listen to on your next long road trip across the States? The MRC team picked out 40 of our favorite mystery audiobooks in different sub-genres from thriller audiobooks, cozy mysteries, true crime, and suspense audiobooks. We found some great audiobooks for everyone. So, get ready for the open road ahead with this list of good mystery audiobooks that will be great to listen to on your next road trip.
Listening to a mystery audiobook on long drives is an experience that transcends age, captivating the imagination of readers from all walks of life. The seamless fusion of audio storytelling and enigmatic plots offers an exhilarating escape from the mundane, making it a favorite pastime for avid readers seeking suspense and intrigue while driving or doing chores. In this blog post, we will explore the allure of mystery audiobooks that leave listeners yearning for more.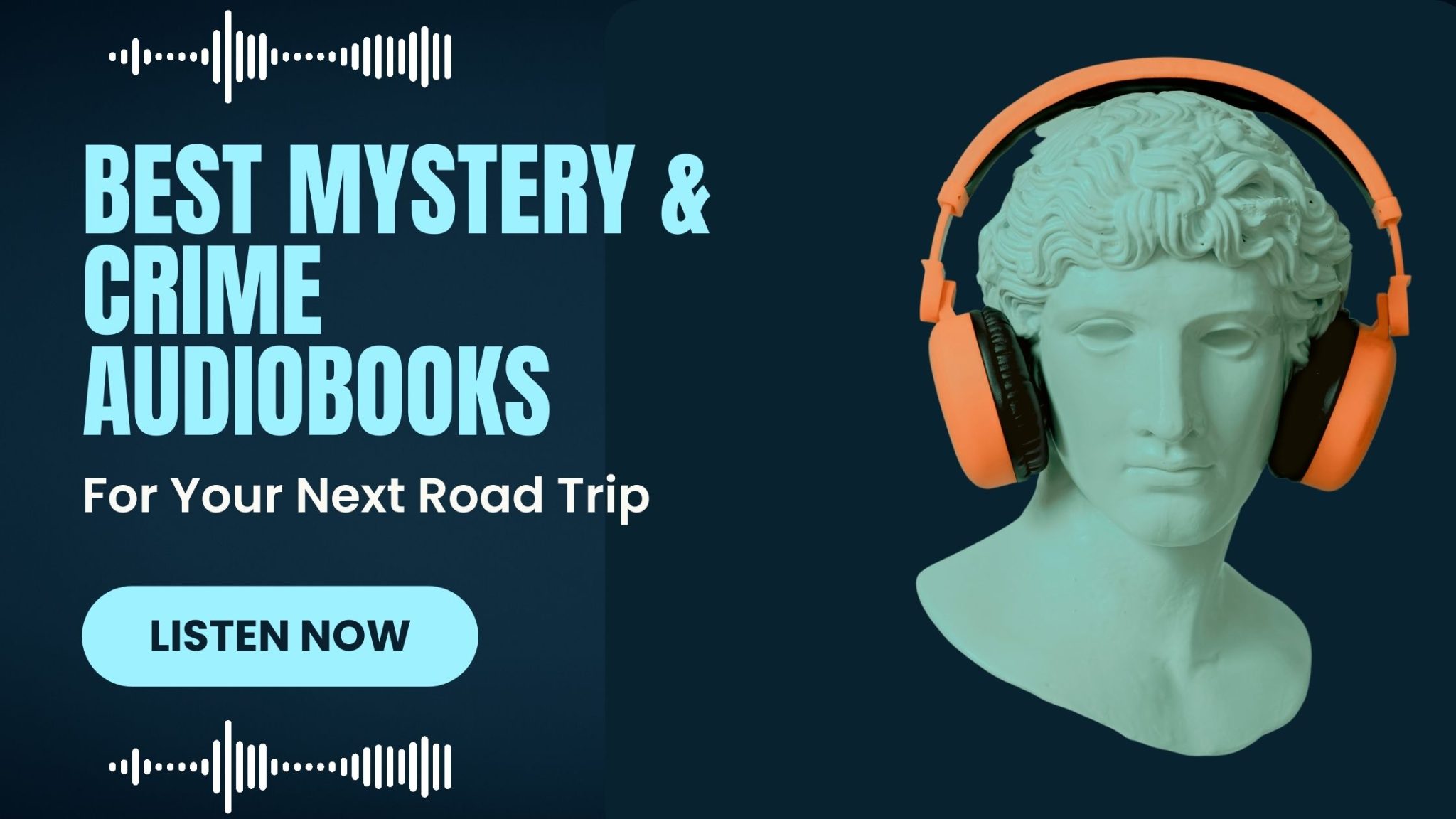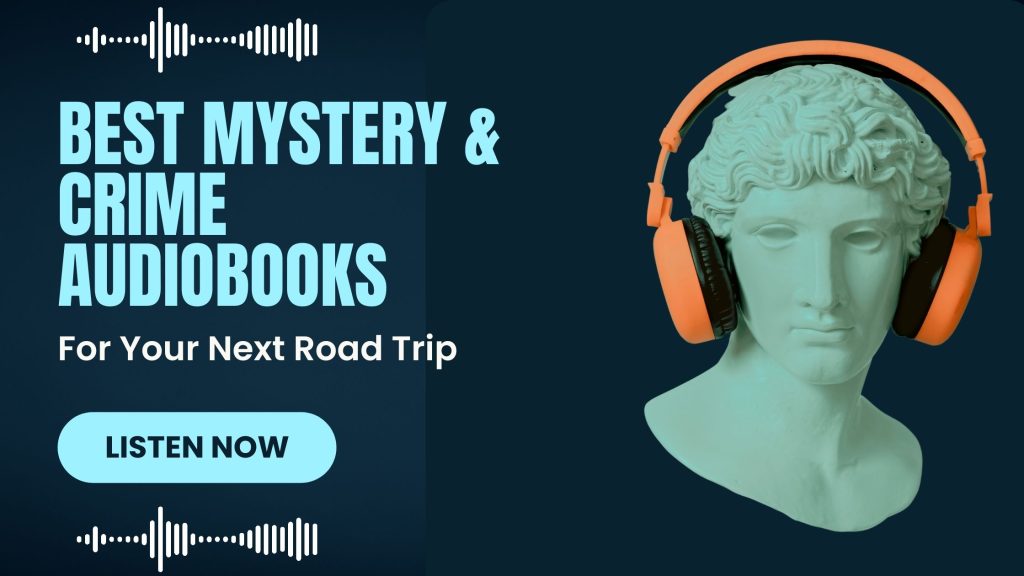 From the very first moment, mystery audiobooks draw readers into their world with a carefully crafted atmosphere. The audiobook narrator's voice sets the stage, evoking a sense of place and time that envelops the listener. Find some of the best books with chills and thrills in them in this 10 thriller audiobooks:
Thriller Audiobooks
1. All Good People Here by Ashley Flowers Narrated by Brittany Pressley & Karissa Vacker. Now if that name sounds familiar it's because Ashley Flowers is the host of Crime Junkies, a podcast dedicated to helping solve true crime mysteries. *This is one of our favorite books and the perfect choice for a long trip
When Margot returns home to help care for her uncle after he is diagnosed with early-onset dementia, she feels like she's walked into a time capsule. Wakarusa is exactly how she remembers—genial, stifled, secretive. Then news breaks about five-year-old Natalie Clark from the next town over, who's gone missing under circumstances eerily similar to January's. With all the old feelings rushing back, Margot vows to find Natalie and to solve January's murder once and for all.
But the police, Natalie's family, the townspeople—they all seem to be hiding something. And the deeper Margot digs into Natalie's disappearance, the more resistance she encounters, and the colder January's case feels. Could January's killer still be out there? Is it the same person who took Natalie? And what will it cost to finally discover what truly happened that night twenty years ago?
Twisty, chilling, and intense, All Good People Here is a searing tale that asks: What are your neighbors capable of when they think no one is watching?
Listen time: 10 hours and 35 minutes
Read more on Amazon
2 The Maid's Diary by Loreth Anne White Narrated by Jane Oppenheimer
As Mal begins to uncover the secret that has sent the lives of everyone involved on a devious and inescapable collision course, she realizes that nothing is quite as it seems. And no one escapes their past..
Listen time: 12 hours and 10 minutes
Read more on Amazon
3 The Last Mrs. Parrish by Liv Constantine, Narrated by Suzanne Elise Freeman & Meghan Wolf
Amber's envy could eat her alive…if she didn't have a plan. Amber uses Daphne's compassion and caring to insinuate herself into the family's life – the first step in a meticulous scheme to undermine her. Before long Amber is Daphne's closest confidante, traveling to Europe with the Parrishes and their lovely young daughters and growing closer to Jackson. But a skeleton from her past may undermine everything that Amber has worked toward, and if it is discovered, her well-laid plan may fall to pieces.
With shocking turns and dark secrets that will keep you guessing until the very end, The Last Mrs. Parrish is a fresh, juicy, and utterly addictive thriller from a diabolically imaginative talent.
Listen Time: 12 hours
Read more on Amazon
4 Then She Was Gone by Lisa Jewell, Narrated by Helen Duff
Listen Time: 10 hours and 12 minutes
Read more on Amazon
5 Drift: Rachel Hatch by L.T. Ryan & Brian Shea, Narrated by Marnye Young
The first novel in one of the most highly anticipated collaborative series this decade, Drift is a tightly woven story with deeply developed and endearing characters that will have you rooting for them at every turn, set at an exhilarating pace that will keep you listening late into the night.
Listen Time: 7 hours and 5 minutes
Read more on Amazon
6 Open Carry by Marc Cameron, Narrated by David Chandler
But his newest assignment is taking him out of his comfort zone to southeast Alaska. Cold, dark, uninhabited forests that are often shrouded in fog. And it's the kind of case that makes his blood run cold…the shocking murder of a Tlingit Indian girl.
Three people have disappeared on Prince of Wales Island. Two are crew members of the reality TV show, Fishwives. Cutter's job is to find the bodies, examine the crew's footage for clues, and track down the men who killed them. Easier said than done. Especially when the whole town is hiding secrets, every trail is a dead end – and the hunter becomes the hunted….
Listen Time:11 hours 31 minutes
Read more on Amazon
7 The Silent Patient by Alex Michaelides, Narrated by Jack Hawkins & Louise Brealey
Alicia's refusal to talk, or give any kind of explanation, turns a domestic tragedy into something far grander, a mystery that captures the public imagination and casts Alicia into notoriety. The price of her art skyrockets, and she, the silent patient, is hidden away from the tabloids and spotlight at the Grove, a secure forensic unit in North London.
Theo Faber is a criminal psychotherapist who has waited a long time for the opportunity to work with Alicia. His determination to get her to talk and unravel the mystery of why she shot her husband takes him down a twisting path into his own motivations – a search for the truth that threatens to consume him….
Listen Time: 8 hours and 51 minutes
Read more on Amazon
8 The Last Thing He Told Me by Laura Dave, Narrated by Rebecca Lowman
Hannah and Bailey set out to discover the truth. But as they start putting together the pieces of Owen's past, they soon realize they're also building a new future—one neither of them could have anticipated.
With its breakneck pacing, dizzying plot twists, and evocative family drama, The Last Thing He Told Me is a riveting mystery, certain to shock you with its final, heartbreaking turn.
Listen Time: 8 hours and 49 minutes
Read more on Amazon
9 Verity by Colleen Hoover, Narrated by Vanessa Johansson & Amy Landon
Lowen decides to keep the manuscript hidden from Jeremy, knowing its contents could devastate the already grieving father. But as Lowen's feelings for Jeremy begin to intensify, she recognizes all the ways she could benefit if he were to read his wife's words. After all, no matter how devoted Jeremy is to his injured wife, a truth this horrifying would make it impossible for him to continue loving her.

Length 8 hours 10 minutes
Read more on Amazon
10 The Perfect Wife: A Jessie Hunt Psychological Suspense Thriller by Blake Pierce, Narrator Laura Bannister (the first book in the series).
But soon after their arrival, Jessie begins to notice a series of strange developments. The neighbors – and their au pairs – all seem to be hiding secrets. The mysterious yacht club Kyle is desperate to join is rife with cheating spouses and with troubling rules of its own. And the notorious serial killer being held at the psychiatric hospital where Jessie is completing her degree seems to know more about her life than is normal – or safe.
As her world starts to unravel, Jessie begins to question everything around her – including her own sanity. Has she truly uncovered a disturbing conspiracy buried within a sunny, wealthy Southern California beach town? Does the mass murderer she's studying really somehow know the origin of her private nightmares? Or has her tortured past finally come back to claim her?
A fast-paced psychological suspense thriller with unforgettable characters and heart-pounding suspense, The Perfect Wife is audiobook one in a riveting new series that will leave you listening late into the night.

Listen Time: 8 hours and 15 minutes
Read more on Amazon
​*Bonus: If you like a bit more horror in your good audiobooks I would check out Stephen King's The Outsider, it is one of our favorite Audiobooks in the supernatural horror genre!
As the investigation expands and horrifying answers begin to emerge, King's propulsive story kicks into high gear, generating strong tension and almost unbearable suspense. Terry Maitland seems like a nice guy, but is he wearing another face? When the answer comes, it will shock you as only Stephen King can.
Listen Time: 18 hours and 41 minutes
Read more on Amazon
Here are 10 Cozy Mystery Audiobooks that are perfect for long car rides and family road trips with classic whodunnits, women sleuths, and plot twists you didn't see coming
Each footfall in a dimly lit alley, every creak of an old mansion's floorboards, and the haunting echoes of an abandoned asylum come to life in the minds of listeners. This immersive experience captures our attention, allowing us a great way to unravel good mysteries alongside the characters. One reason we like listening to cozy mysteries is that they are intriguing who-dun-it, detective mysteries that are usually lighthearted and are like going on an adventure with your best friend. So if a thriller audiobook isn't your thing, here are 10 cozy mysteries that the whole family can enjoy.
11 Tomboy by Shelley Blanton-Stroud, Narrated by April Doty
While sailing home on the RMS Queen Mary, Jane veers between competing instincts: Should she write a social bombshell column, personally damaging her new friend Tommie's persona and career? Or should she work to uncover the truth of Coach's death, which she now knows was a murder, and its connection to a larger conspiracy involving US participation in the coming war?
Putting away her menswear and donning first-class ballgowns, Jane discovers what upper-class status hides, protects, and destroys. Ultimately—like nations around the globe in 1939—she must choose what she'll give up in order to do what's right..
Listen Time: 8 hours and 24 minutes
Read more on Amazon
12 Murder on Pointe: A Fiona Quinn Mystery by C.S. McDonald, Narrated by Maren Swenson Waxenberg
13 It's Murder, My Son by Lauren Carr, Narrated by Mike Alger
Three months later, the file on her murder is still open with only vague speculations from the local police department when Mac Faraday, sole heir to his unknown birth mother's home and fortune, moves into the estate next door. Little does he know as he drives up to Spencer Manor that he is driving into a closed-gate community that is hiding more suspicious deaths than his DC workload as a homicide detective. With the help of his late mother's journal, this retired cop puts all his detective skills to work to pick up where the local investigators have left off to follow the clues to Katrina's killer.
Listen Time: 9 hours and 7 minutes
Read more on Amazon
14 Cheddar Off Dead by Korina Moss, Narrated by Erin Moon
15 The Greenleaf Murders: A Historic Homes Mystery by R. J. Koreto, Narrated by Emily Sutton-Smith
Then a third murder occurs, and the introverted architect is forced to think about people, and about how ill-fated love affairs and obsessions continue to haunt the Greenleafs. In the end, Wren risks her own life to uncover a pair of murderers, separated by a century but connected by motive. She reveals an odd twist in the family tree that forever changes the lives of the Greenleafs, the people who served them, the mansion they all called home—and even Wren herself.
Listen Time: 9 hours and 22 minutes
Read more on Amazon
And if you'd like to read more about the Author check out our Spotlight on R.J. Koreto
16 Girl with a Gun: Annie Oakley Mysteries by Kari Bovee, Narrated by Susanna Burney
But after her catapult to fame, a series of crimes take place in the Wild West Show, including the death of Annie's Indian assistant. The coroner claims the death was due to natural causes, but Annie is unconvinced. Then, her prized horse Buck – a major part of her act – is stolen, and she realizes that someone is out to get her.
With the help of a sassy, blue-blooded reporter, Annie sets out to find her horse, solve the crimes, and clear her good name, before everything she's worked for is destroyed.
Listen Time: 9 hours and 24 minutes
Read more about Girl with a Gun on Amazon or read our Author Interview with Kari Bovée
17 No Filter: Barks & Beans Cafe Cozy Mystery by Heather Day Gilbert, Narrated by, Brittany Goodwin
18 With Neighbors Like These: The HOA Mystery Series (Book 1) by Linda Lovely, Narrated by Barbara Henslee & Aven Shore
19 Domestic Affairs: A Tiara Investigations Mystery by Lane Stone, Narrated by Carol Herman
Soon, more coincidences occur as the dead man disappears, then reappears. The girls put their beautifully coiffed heads together to discuss the clues they've gathered to Pop Tart's murder. Just what is the meaning of the strange terms he wrote on his napkin? Just what is the significance of the words the waiter overheard him mutter before he died? And why is Homeland Security involved? Will these clues lead to nowhere or will Tiara Investigations put it all together, find the killer, and save the day? They can and they will, because for this bevy of beauties, it's more than just Domestic Affairs.
Listen Time: 6 hours and 11 minutes
Read more on Amazon
20 Death Overdue: A Haunted Library Mystery by Allison Brook, Narrated by Mia Gaskin
True Crime Audiobooks
For those with an insatiable appetite for real-life mysteries, true crime audiobooks offer a chilling yet captivating experience. Delving into real criminal cases, these narratives provide a glimpse into the darkest corners of the human psyche. Listeners are drawn into the gripping accounts of notorious crimes, missing persons cases, unsolved mysteries, and the relentless pursuit of justice. The sense of realism and the knowledge that these events actually occurred make true crime audiobooks an alluring choice for mystery enthusiasts seeking a unique blend of factual storytelling and suspenseful intrigue. Warning: True Crime Audiobooks abound and may leave you paranoid. Here are some of our favorites, but please note: listener discretion is advised. Most true crime audiobooks deal with sensitive topics and triggers that may not be suitable for a younger audience:
21 American Predator: The Hunt for the Most Meticulous Serial Killer of the 21st Century by Maureen Callahan, Narrated by Amy Landon
When journalist Maureen Callahan first heard about Israel Keyes in 2012, she was captivated by how a killer of this magnitude could go undetected by law enforcement for over a decade. And so began a project that consumed her for the next several years – uncovering the true story behind how the FBI ultimately caught Israel Keyes, and trying to understand what it means for a killer like Keyes to exist. A killer who left a path of monstrous, randomly committed crimes in his wake – many of which remain unsolved to this day.
American Predator is the ambitious culmination of years of interviews with key figures in law enforcement and in Keyes's life, and research uncovered from classified FBI files. Callahan takes us on a journey into the chilling, nightmarish mind of a relentless killer, and to the limitations of traditional law enforcement.
Listening Time: 9 hours and 3 minutes
Read more on Amazon
22 If You Tell: A True Story of Murder, Family Secrets, and the Unbreakable Bond of Sisterhood by Gregg Olsen, Narrated by Karen Peakes
23 Everything She Ever Wanted by Ann Rule, Narrated by Cassandra Campbell
Pat's only brother had died in a puzzling suicide, her grandparents-in-law were poisoned with arsenic, and no one—from her wealthy employers to her own children—was safe when Pat Allanson didn't get her way. It took Georgia lawmen more than two decades to stop her for good—if indeed they have.
In this fascinating account, Ann Rule delivers a tour de force: a whirlwind of misguided love, denial, guilt, and passions out of control; a series of brilliantly manipulated crimes; the bizarre and horrifying tale of two families brought to ruin; and, at the center of it all, the heartless, supremely selfish sociopath whose evil hid behind soft words and gentle manners, but who destroyed—without mercy—those who loved her.
Listening Time: 20 hours and 23 minutes
Read more on Amazon
24 Murder of Innocence by James Patterson, Narrated by Stephen Graybill
25 The Doomsday Mother: Lori Vallow, Chad Daybell, and the End of an American Family by John Glatt, Narrated by Shaun Grindell
In June 2020, the gruesome remains of JJ and Tylee were discovered on Chad's property, and the newlyweds were arrested and charged with murder. And in a shocking development, horrifying statements revealed that the couple's fanatical beliefs had convinced them the children had become zombies – a belief that may have led to their deaths.
Listen Time: 8 hours and 38 minutes
Read more on Amazon
26 The Girl in the Leaves by Robert Scott, Narrated by Callie Beaulieu
27 Unsolved Serial Killers: Volume 1: 10 Frightening True Crime Cases of Unidentified Serial Killers (The Ones You've Never Heard Of) by D.R. Werner, Narrated by James Meunier
But what about those who go undetected? In Unsolved Serial Killers, here is just a fraction of what you will discover:
Explorations of the cities and historical contexts of the killings, so you understand the atmosphere when they were taking place
In-depth profiles of the victims of each killer and what happened to them
Comprehensive looks at the investigations, suspects, and actions of law enforcement while trying to identify the perpetrators
The conspiracy theories and lasting legacies that surround these unknown predators
The methodology of the killers and what those distinct patterns might reveal about their twisted inner psyche
Public reactions to the murder sprees and the surprising ways that public opinion influenced investigations
And much more
Listen Time: 3 hours and 10 minutes
Read more on Amazon
28 Vanished in Vermillion: The Real Story of South Dakota's Most Infamous Cold Case by Lou Raguse (Author & Narrator)
29 Mindhunter: Inside the FBI's Elite Serial Crime Unit by John E. Douglas & Mark Olshaker, Narrated by Richard M. Davidson
As the model for Jack Crawford in The Silence of the Lambs, Douglas has confronted, interviewed, and studied scores of serial killers and assassins, including Charles Manson, Ted Bundy, and Ed Gein, who dressed himself in his victims' peeled skin. Using his uncanny ability to become both predator and prey, Douglas examines each crime scene, reliving both the killer's and the victim's actions in his mind, creating their profiles, describing their habits, and predicting their next moves.
Listening Time: 15 hours and 24 minutes
Read more on Amazon
30 Tears of the Silenced by Misty Griffin, Narrated by Cassandra Campbell
Full-on Suspense Audiobooks
A mystery audiobook wouldn't be complete without its labyrinthine plot. Authors expertly weave unexpected twists and turns, ensuring listeners are kept on the edge of their seats throughout. Every new revelation adds another layer to the puzzle, challenging preconceived notions and keeping the mind engaged. These unforeseen plot twists create an addictive listening experience, urging listeners to constantly speculate and analyze clues, leading them down a path filled with anticipation and excitement. So, last but certainly not least we bring you to our round-up of 10 suspense books that will have you on the edge of your seat this next road trip!
31 The Devil's Hand by Jack Carr, Narrated by Ray Porter
32 Girl, Alone by Blake Pierce, Narrated by Abigail Reno
33 Tom Clancy Line of Sight by Mike Maden, Narrated by Scott Brick
34 Full Disclosure by Dee Henderson, Narrated by David de Vries
The better he gets to know her, the more Paul realizes her job barely scratches the surface of who she is. She knows spies and soldiers and U.S. Marshals, and has written books about them. She is friends with the former vice president. People with good reason to be cautious about who they let into their lives deeply trust her. Paul wonders just what secrets Ann is keeping, until she shows him the John Doe Killer case file, and he starts to realize just who this lady he is falling in love with really is….
Listen Time: 14 hours and 10 minutes
Read more on Amazon
35 Targeted: Three Romantic Suspense Novellas by Lynette Eason, Lynn H. Blackburn, Natalie Walters, and Narrated by Kate Forbes
36 Conspiracy of Silence by Ronie Kendig, Narrated by Graham Winton
37 I Will Find You by Harlan Coben, Narrated by Steven Weber
David plans a harrowing escape, determined to achieve the impossible–save his son, clear his own name, and discover the real story of what happened. But with his life on the line and the FBI following his every move, can David evade capture long enough to reveal the shocking truth?
Listen Time: 10 hours and 16 minutes
Read more on Amazon
38 The Night She Disappeared by Lisa Jewell, Narrated by Joanne Froggatt
39 H_NGM_N: Murder Is the Word by JC Gatlin, Narrated by Dan Gilvezan
Attending the funeral, Tori confronts a past that still haunts her and questions the text messages haunting her now. Her investigation leads to a fact she suspected all along: Her old friend didn't commit suicide, but was murdered. There's no shortage of suspects either: Brooke's angry husband who instigated a fight the night she died; Brooke's high school principal who denies rumors they were having an affair; and a town sheriff who shares a stormy past with Tori and is blocking her investigation at every turn. The only witness appears to be Brooke's five-year-old daughter who hasn't spoken since the tragedy and continually draws the same graphic picture of the night her mother's body was discovered hanging from that old water tower.
Tori knows one of them has Brooke's cell phone and is texting her from it. Others are convinced it's Brooke reaching out from the great beyond. Either way, someone from her past is playing a deadly game of Hangman.
Listen Time: 10 hours and 12 minutes
Read more on Amazon
40 Cliff Diver: Detective Emilia Cruz Mysteries by Carmen Amato, Narrated by Johanna Parker
Reputations are threatened by her discoveries, and truth is for sale. Emilia becomes a pawn in an ugly game of checkmate and corruption played by Acapulco's ambitious mayor and the powerful police union.
Rival police detectives take aim at Emilia's investigation. Their ringleader is a prime suspect. Hotel manager Kurt Rucker has some helpful advice for Emilia, but the heat between them is too hot to handle.
Feeling like one of Acapulco's famous cliff divers hoping not to crash on the rocks below, Emilia must choose between truth and survival. But no matter which choice, she won't be ready for the shock of the water.
And neither will you.
Listen Time: 10 hours and 51 minutes
Read more on Amazon
---
In the realm of audiobooks, mysteries have proven to be a timeless genre that enthralls readers of all ages. The allure of immersive atmospheres, layered characters, and gripping plot twists creates an unforgettable experience that leaves listeners eagerly awaiting their next enigmatic journey. From some of the great classic mystery novel writers like Sherlock Holmes (Sir Arthur Conan Doyle), and Agatha Christie, to modern thrillers writers like Stephen King and John Grisham. We hope you found some great mystery audiobooks to spark your curiosity.
Check back for more audio books we will be recommending soon!