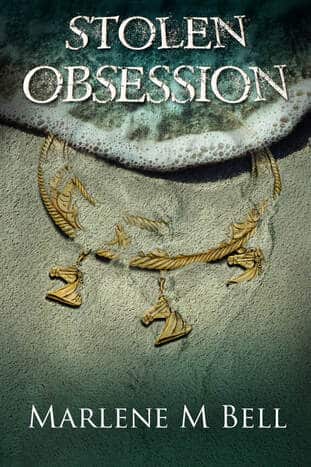 Synopsis:
People die, but legends live on.
New York antiquities appraiser Annalisse Drury recently lost her best friend to murder. The killer's identity may be linked to her friend's expensive missing bracelet—a 500-year-old artifact that carries an ancient curse, one that unleashes evil upon any who dare wear the jewelry created for the Persian royal family.
Weeks later, Annalisse sees a matching necklace at a Manhattan gallery opening. She begs the owner to destroy the cursed piece, but her pleas fall on deaf ears—despite the unnatural death that occurs during the opening. With two victims linked to the jewelry, Annalisse is certain she must act.
Desperate, Annalisse enlists the gallery owner's son to help—even though she's afraid he'll break her heart. Wealthy and devastatingly handsome, with a string of bereft women in his wake, Greek playboy Alec Zavos dismisses Annalisse's concerns—until his parents are ripped from the Zavos family yacht during their ocean voyage near Crete.
Annalisse and Alec race across two oceans to save his mother, feared dead or kidnapped. When the killer changes tactics and goes after Alec behind Annalisse's back, can her plan to rescue Alec's mother save them all?
Hold on for a heart-thumping, thrilling adventure through exotic lands in this fast-moving romantic suspense mystery by Marlene M. Bell.
Stolen Obsession…
Five reasons this is a combination of suspense mystery and historical fiction that will leave you wanting more of Annalisse:
It uses the past to create a believable and relatable mystery
It had enough characters that you couldn't really guess who actually did it, since they all had opportunity and motive. 
It had a good romantic suspense element, and it was NOT an instalove story! There was an actual build up.
Marlene M. Bell took multiple characters and brought them to life. Then made us care about them and left us wondering in the best of ways.
It used an exotic locale, that was both intriguing and fascinating… and made me want to go visit.
This is my first time reading a mystery by Marlene M. Bell, it was…interesting. In stolen obsession Marlene M. Bell dives right into the past and a mystery with a murder continually referenced. She did it in such a way that it felt like we were immersed into the story and that we should have had all the background details but we didn't. However, she did weave them in throughout the story so it was like getting to know a whole story but not necessarily in order.
Overall, the story was well written, and was easy to be engaged in.
* This book did contain graphic violence, sexual content, and profane language.
About the Author
Marlene M. Bell is an eclectic mystery writer, artist, photographer, and she raises sheep in beautiful East Texas with her husband, Gregg, three cats and a flock of horned Dorset sheep.
The Annalisse series has received numerous honors including the Independent Press Award for Best Mystery (Spent Identity,) and FAPA— Florida Author's President's Gold Award for two other installments, (Stolen Obsession and Scattered Legacy.) Her mysteries with a touch of romance are found at marlenembell.com. She also offers the first of her children's picture books, Mia and Nattie: One Great Team! Based on true events from the Bell's ranch. The simple text and illustrations are a touching tribute of compassion and love between a little girl and her lamb.
connect with the Author:  
website ~ website ~ twitter ~ facebook ~ instagram ~ goodreads
See our Guest Posts From Marlene M. Bell on How to Make Your Novel Stand Out
Giveaway of Stolen Obsession + More
COPPER WATERS Book Tour Giveaway