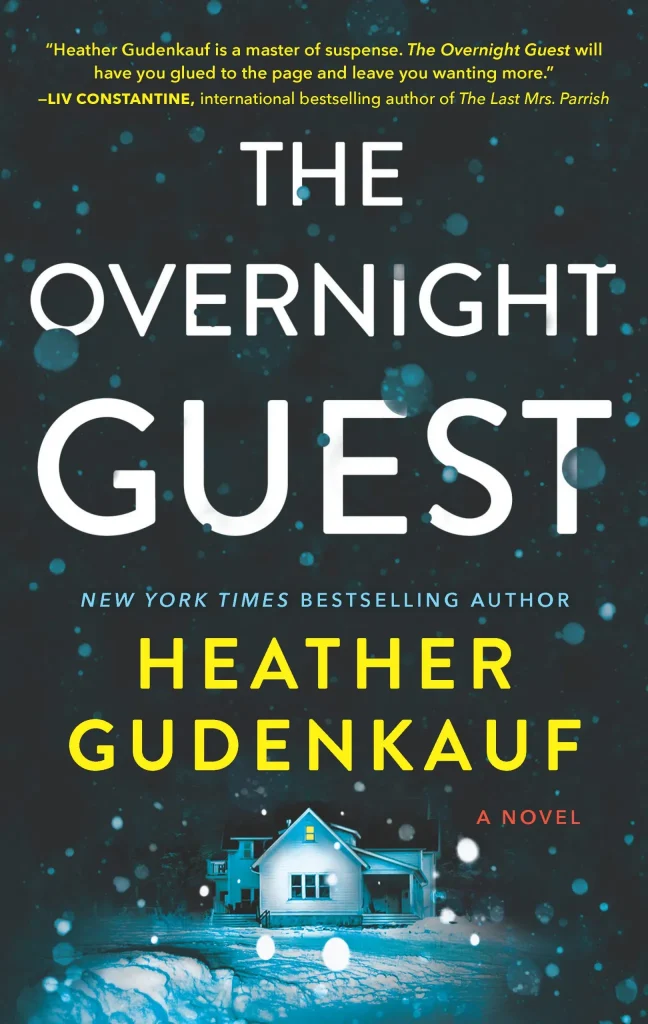 Synopsis:
A woman receives an unexpected visitor during a deadly snowstorm in this chilling thriller from New York Times bestselling author Heather Gudenkauf.

True crime writer Wylie Lark doesn't mind being snowed in at the isolated farmhouse where she's retreated to write her new book. A cozy fire, complete silence. It would be perfect, if not for the fact that decades earlier, at this very house, two people were murdered in cold blood and a girl disappeared without a trace.

As the storm worsens, Wylie finds herself trapped inside the house, haunted by the secrets contained within its walls—haunted by secrets of her own. Then she discovers a small child in the snow just outside. After bringing the child inside for warmth and safety, she begins to search for answers. But soon it becomes clear that the farmhouse isn't as isolated as she thought, and someone is willing to do anything to find them.
About the Author of The Overnight Guest
Heather Gudenkauf is the critically acclaimed author of several novels, including the New York Times bestseller The Weight of Silence. She lives in Iowa with her husband and children.
The Plain Spoken Pen's Thoughts on The Overnight Guest
This Book Review of The Overnight Guest was originally posted on The Plain Spoken Pen. Reposted with permission.
Once you start reading The Overnight Guest, you better cancel all your plans. You will not be able to put this book down. I read it in less than 24 hours.
Wylie Lark has hidden herself away in Burden, Iowa, where a horrific murder took place twenty years ago. She hopes that being there on the scene, in an isolated farmhouse, away from her irritating ex and angry son, will let her focus and finish her latest true crime book.
When a snowstorm makes leaving the house impossible, Wylie isn't worried at first. But as she's trying to prepare for the inevitable power outage, she stumbles across a young child, half-frozen, outside her door.
The story is told from different viewpoints, in different time frames. We see events unfold in the year 2000, when the crime occurred, through the viewpoint of twelve-year-old Josie Doyle. We get Wylie's viewpoint in the present day. We also see the story of a mother and child, clearly held against their will in harsh, abusive conditions. It wasn't immediately clear to me how these three threads were interwoven. But then the twist came, and BAM! It was stunning.
The creep factor is pretty high with this book. The setting – one woman, alone with her true-crime thoughts, in an isolated place. The environment – a snowstorm, no power, no heat, she's cut off from any aid. The unexpected – a half-frozen child, miles from anywhere, with no one else in sight. You think you're all alone, and you're not. That's bad enough. And then your unexpected visitor won't speak a word, and is clearly agitated, and you have no idea why. That gives me the frissons, me.
Ms. Gudenkauf does a good job creating an engrossing setting and filling it with characters that draw you into their story. If you like a thriller that will get your pulse pounding and send shivers down your spine, pick up The Overnight Guest.
Disclaimer: I received an advance reader copy from Netgalley and Harlequin Trade Publishing. All opinions here are mine, and I don't say nice things about books I don't actually like.
About the Reviewer
The Plain Spoken Pen
Hi! I'm Lisa, the reader and reviewer behind The Plain-Spoken Pen. I've been reading since I was 3 years old, and my mother would probably tell you I started spotting errors in the written word shortly thereafter.
I'm an attorney by education and employment and a word nerd and geek by personal inclination. Mystery, sci-fi, and fantasy are my favorite genres, but I'll read other things if they catch my attention.
When I'm not working or reading, I enjoy baking, playing the piano, and working on freelance editing projects (want more info? See my "Work With Me" page!). I'm the family CEO of the Nerd Herd, and we call Louisiana home.