STORY BEHIND THE STORY WITH AUTHOR LAURIE BUCHANAN BY SHELLEY BLANTON-STROUD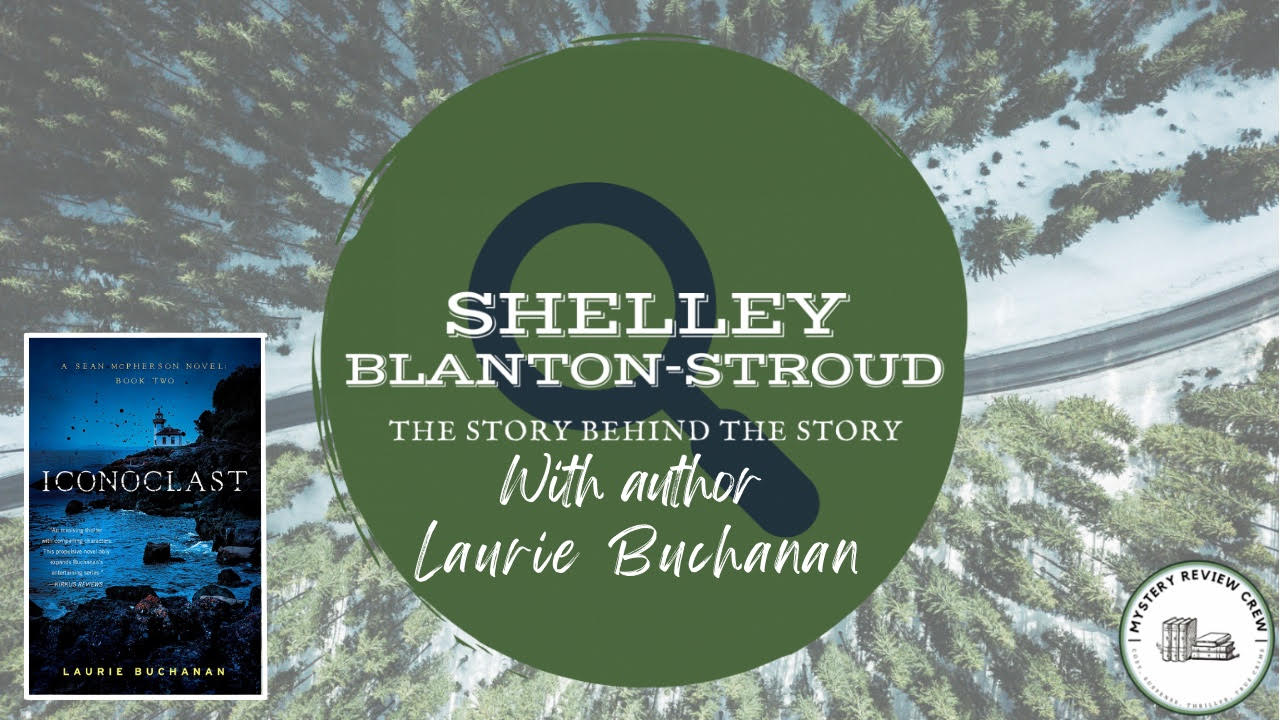 Laurie Buchanan is the author of INDELIBLE and ICONOCLAST, books one and two of the Sean McPherson series of contemporary thrillers set in a Hedgebrook-like idyllic writers' retreat. Laurie is full of cheerful details about psychopaths and the gourmet food cooked up at home and in her novels. Listen in to our conversation about what happens when cozy meets crazy in the Pacific Northwest.
STORY BEHIND THE STORY WITH AUTHOR LAURIE BUCHANAN
By Shelley Blanton-Stroud
About Laurie Buchanan
I write the Sean McPherson novels—fast-paced thrillers set in the Pacific Northwest featuring a trifecta of malice and the pursuit and cost of justice.
As a photographer and avid reader, I carry a laptop, book, and camera with me wherever I go.
"Never trust anyone
who has not brought a book with them."
—LEMONY SNICKET
Growing up, I wanted to be a magician, international spy, and mad scientist. There's still time!
​I live in the Pacific Northwest with my pilot-husband, Len, where I enjoy yoga, bicycling, and camping.
​I love to travel and take walks—long walks! I walked across Scotland, a 211-mile journey from the North Sea to the Atlantic Ocean. At the mid-point, I climbed Ben Nevis, the highest point in the British Isles.
My Achilles' heel? Red licorice. I adore it!
Visit Laurie: https://www.lauriebuchanan.com/
To be interviewed by Shelley Blanton-Stroud please email info@mystery-review-crewrew.com
About
Shelley Blanton-Stroud
I grew up in California's Central Valley, the daughter of Dust Bowl immigrants who made good on their ambition to get out of the field. I recently retired from teaching writing at Sacramento State University and still consult with writers in the energy industry. I co-direct Stories on Stage Sacramento, where actors perform the stories of established and emerging authors, and serve on the advisory board of 916 Ink, an arts-based creative writing nonprofit for children. I've also served on the Writers' Advisory Board for the Belize Writers' Conference. Copy Boy is my first Jane Benjamin Novel. Tomboy (She Writes Press 2022) will be my second. The third, Poster Girl, will come out in November 2023. My writing has been a finalist in the Sarton Book Awards, IBPA Benjamin Franklin Awards, Killer Nashville's Silver Falchion Award, the American Fiction Awards, and the National Indie Excellence Awards. I and my husband live in Sacramento with an aging beagle, Ernie, and many photos of our out-of-town sons and their wonderful partners.
To find out more about Shelley Blanton-Stroud and her books, and to sign up for her newsletter, go here. https://shelleyblantonstroud.com