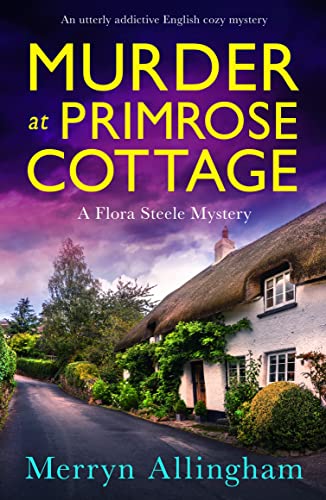 Book: Murder at Primrose Cottage
Author: Merryn Allingham
Pub Day: March 18, 2022 
Buy Link – Amazon: https://amzn.to/3j5fMbW
Book Description:
Join Flora Steele – bookshop owner, bicycle-rider, daydreamer and amateur detective – in her quest to solve a brand-new murder mystery!
Cornwall, 1956: When Flora Steele sets off for a peaceful vacation with crime writer Jack Carrington in his little red Austin, the last thing she expects to find is a body at their pretty rental cottage!
Shocked by the discovery, inquisitive Flora joins forces with handsome Jack to find out how the poor man came to such an untimely end in the overgrown orchard of Primrose Cottage. They discover Roger Gifford was a man with plenty of friends and the villagers seem devastated by his sudden death…
So why was he murdered? And who has blood on their hands – his estranged wife Beatrice, his wayward younger brother Lionel, or the suspicious newcomer Mercy Dearlove?
The baffling case gets even more complicated when a second man is found dead and a set of puzzling clues lead them to an intriguing wartime mystery connected to Jack's estranged father.
As old secrets emerge and Jack receives an unsettling letter, it seems the crime writer is in danger of a fate befitting his fictional characters. Will Flora be able to crack the case and save Jack? Or will this be one murder too many for Flora Steele?
Book Review from The Plain Spoken Pen for Murder at Primrose Cottage:
Originally Posted on The Plain Spoken Pen. Reposted with permission.
Once again, I find myself jumping into the middle of a series. Once again, doing so leads me to a whole new series and a new author to enjoy!
Flora and her companion, Jack Carrington, are off to Treleggan, Cornwall so Jack can do some research for his latest crime novel and Flora can get in some rest and relaxation. Those plans are sidetracked when Flora finds the landlord of the cottage they've rented dead in the cottage garden. A mystery needs unraveling, and Flora is determined to get to the bottom of it.
Flora Steele is a thoroughly likable heroine. She's intelligent, adventurous (sometimes too much so for her own well-being), and generally pretty outspoken. She barely knew Roger Gifford, but she's determined to see justice done for him, especially as it appears the local constabulary may not be doing such a great job. She and Jack work well together, and their banter is a lot of fun.
The story's setting is wonderful. I'd now like to go visit Cornwall, please. I want to eat the food and meet the people and explore all the historical sites. The plot was well laid out, too. Allingham would give us a possible villain, and then they'd be taken suddenly and thoroughly out of the running. I love it when stories take turns that keep me guessing!
As for characters, I particularly appreciated Mercy Dearlove and how Flora related to her. Mercy seemed not to be very well liked in Treleggan, but Flora moved past local prejudice and reached out Mercy when she thought Mercy might have useful information. I daresay there may have been good feeling toward Flora on Mercy's side, too. It's a good reminder that just because someone is different doesn't mean they're bad.
Murder at Primrose Cottage is an easy read, and an enjoyable one. The mystery isn't too easily resolved, the characters are well-written, and the setting makes me want to go there. I've found a new author and series to love. Five stars, because it's just that much fun!
Disclaimer: I received an advance reader copy from Bookouture and Netgalley. All opinions here are mine, and I don't say nice things about books I don't actually like.
About the Author of Murder at Primrose Cottage
Merryn taught university literature for many years, and it took a while to pluck up the courage to begin writing herself. Bringing the past to life is a passion and her historical fiction includes Regency romances, wartime sagas and timeslip novels, all of which have a mystery at their heart. As the books have grown darker, it was only a matter of time before she plunged into crime with a cosy crime series set in rural Sussex against the fascinating backdrop of the 1950s.
Merryn lives in a beautiful old town in Sussex with her husband. When she's not writing, she tries to keep fit with adult ballet classes and plenty of walking.
About the Reviewer
The Plain Spoken Pen
Hi! I'm Lisa, the reader and reviewer behind The Plain-Spoken Pen. I've been reading since I was 3 years old, and my mother would probably tell you I started spotting errors in the written word shortly thereafter.
I'm an attorney by education and employment and a word nerd and geek by personal inclination. Mystery, sci-fi, and fantasy are my favorite genres, but I'll read other things if they catch my attention.
When I'm not working or reading, I enjoy baking, playing the piano, and working on freelance editing projects (want more info? See my "Work With Me" page!). I'm the family CEO of the Nerd Herd, and we call Louisiana home.