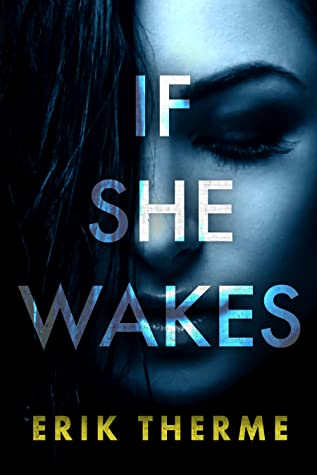 About If She Wakes
Who do you trust when everyone is lying?
My name is Tess Parker.
Two days ago, I was in a car accident with my sister-in-law, Torrie. Before she slipped into a coma, she asked my husband and me to care for her four-month-old son, Levi.
Yesterday, a woman claiming to be Torrie's estranged sister knocked on our door. But Torrie has no siblings . . . or so she said. She and my brother were only together a short time before he left, and Torrie has clearly been keeping secrets.
Today, another of Torrie's "sisters" has come to town. Both say the other is lying about who they are.
Neither of them is telling the truth.
Both of them want Levi.
About The Author
Erik Therme has thrashed in garage bands, inadvertently harbored runaways, and met Darth Vader. When he's not at his computer, he can be found cheering on his youngest daughter's volleyball team, or watching horror movies with his oldest. He currently resides in Iowa City, Iowa—one of only twenty-eight places in the world that UNESCO has certified as a City of Literature. Join Erik's mailing list to be notified of new releases and author giveaways: http://eepurl.com/cD1F8L
Website: http://www.eriktherme.com
Twitter: eriktherme
Book Review From Bound 4 Escape
Originally posted on Bound 4 Escape. Reposted with permission.
I chose to read this book after receiving a free e-copy from the author. All opinions in this review are my own and completely unbiased.
I have read Erik Therme's books and enjoy his writing style and the suspense in his books. I read the first book in this series, If She Dies, about a year ago. It wasn't my favorite book, but I really liked that last quarter of it, so I was happy to read If She Wakes. I was not disappointed.
This book is full of suspense. I had to find out what was going to happen, so I had to stay up late into the night to finish reading it. Tess is still a mess but part of that is because she's too hard on herself and her husband is not supportive. He thinks he is, but he blames Tess for overreacting to everything. But is she?
The end was a surprise which is always nice. A lot was resolved but because of the last line in the book, I'm sure there will be a book #3. I'm looking forward to reading it.
About the Reviewer
Bound 4 Escape
Dawn
I started selling used books online in 1999 as sleepygirl2, and opened my first storefront, Sleepygirl's Used Books, in 2003. I enjoy my work and have wanted to start a blog for a while because I want to share my love for reading. I find a lot of interesting and funny things about books as I browse and this is the perfect place to share them. I also review books I read, which are often from authors or publishers, but I don't receive any compensation for the reviews. Sometimes I come across an interesting book that I've purchased that I like to share on here as well.