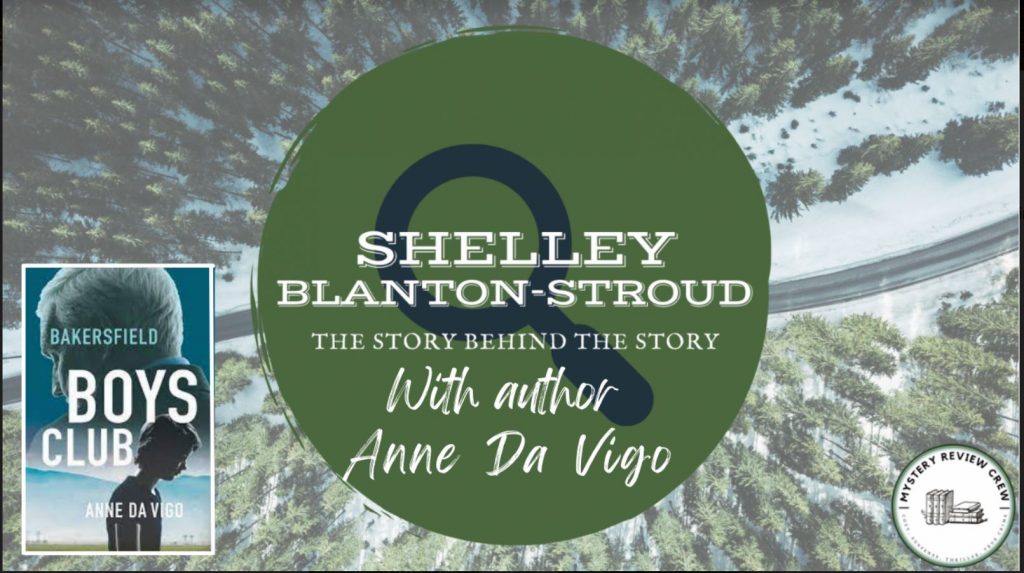 Author Anne Da Vigo's Bakersfield Boys Club, a thriller set in late-seventies Central California, is a riveting story about the abuse of power, unflinchingly realistic, but not without hope. It holds special interest for me because I grew up in Bakersfield where the real world case—known as the Lords of Bakersfield—continues to play out in civil courts. I was eager to talk to Anne about the story behind her story.
Full Interview Video Below
Below are some edited tidbits from that interview.
Shelley Blanton-Stroud:
Anne, can you tell us a little about the real Lords of Bakersfield case and your particular angle on it?
Anne Da Vigo:
The Lords of Bakersfield cases began in the late 1970s and continued up until the early 2000s. They involved a group of very powerful men who were abusing vulnerable boys in the community of Bakersfield. There were a series of murders. The men were murdered mostly by boys that they had abused. One murder was never solved. That was of a girl who attended one of their sex and drugs parties.
The men were powerful. One was a police commissioner. One was the assistant DA. One was the man that hired me at the Bakersfield newspaper where I worked. One was a millionaire realtor and businessman. I covered the first of those cases as a journalist. And while one student was put on trial but never convicted, there was also a 13 year old boy in the background that apparently was at the scene at the time of the murder.
The boy, according to court testimony, was a prostitute. He was 13 at the time. He had been put out as a prostitute by his mother. No one ever came to that boy's rescue. He was put in a group home for stealing some money from the man who was murdered. In later years, he continued to be abused by powerful men in Bakersfield, and eventually murdered one of his abusers. I never forgot that kid. I moved away. I became a journalist in Sacramento, but that case stuck with me.
The Lords of Bakersfield cases culminated with the murder of the assistant district attorney, one of the original abusers. At that point, the Bakersfield Californian finally wrote a huge expose on it, which turned out to be a prize-winning series. So that's how I got interested in this story. It stuck with me for a long, long time before I wrote the book.
Shelley:
Why do you, a journalist, find special opportunity in fictionalizing a story like this, rather than writing a nonfiction treatment of it?
Anne:
Well, as a journalist, what you're doing is, it's like just the facts, ma'am, and so you don't put in what the character is feeling, the person you're interviewing is feeling, because that's not part of what you do as a journalist. But as a novelist, as a fiction writer, you're getting into their heads. You're trying to figure out what motivates them, what might happen even, perhaps. So you're looking at the whole person, not just the exterior facts, but what's going on internally. I think that's one of the fun things about writing fiction. But it took me a while as a journalist to get past that and say, okay, I really can say what it is they're thinking. It was something I had to get past when I started writing fiction.
Shelley:
Does anything in particular continue to haunt you about this case?
Anne:
When the boy that I mentioned to you, who is a background figure in the trial that I covered, when he several years later killed one of his abusers, there was a trial in the case that was moved out of Bakersfield down to Riverside County. And at the time of his sentencing, he testified, and it's in the court records, naming the people that were involved. And no one ever followed up, no one ever brought any charges against those men. And even he mentioned that he had mentioned to his probation officer that these men had done this. And she scolded him… What she said was, "Well, you should stop using people, Robert." I mean, and that came out in court. No one ever then stepped up, no one ever followed up to make sure that the boys that came out of that boys' home, that came into the juvenile court, were protected. It was a sad thing, a sad thing.
For the whole twenty-five minute video, go here.
For a two-minute clip, go here.
To find out more about Anne DaVigo and her books, go here. https://annedavigoauthor.com
About
Shelley Blanton-Stroud
I grew up in California's Central Valley, the daughter of Dust Bowl immigrants who made good on their ambition to get out of the field. I recently retired from teaching writing at Sacramento State University and still consult with writers in the energy industry. I co-direct Stories on Stage Sacramento, where actors perform the stories of established and emerging authors, and serve on the advisory board of 916 Ink, an arts-based creative writing nonprofit for children. I've also served on the Writers' Advisory Board for the Belize Writers' Conference. Copy Boy is my first Jane Benjamin Novel. Tomboy (She Writes Press 2022) will be my second. The third, Poster Girl, will come out in November 2023. My writing has been a finalist in the Sarton Book Awards, IBPA Benjamin Franklin Awards, Killer Nashville's Silver Falchion Award, the American Fiction Awards, and the National Indie Excellence Awards. I and my husband live in Sacramento with an aging beagle, Ernie, and many photos of our out-of-town sons and their wonderful partners.
To find out more about Shelley Blanton-Stroud and her books, and to sign up for her newsletter, go here. https://shelleyblantonstroud.com
If you liked this post be sure to check out other behind the scenes with Shelley Blanton-Stroud, or check out our author features page for other mystery articles.