Welcome to the Art History Buff and World Traveler Lane Stone (AKA Cordy Abbott)!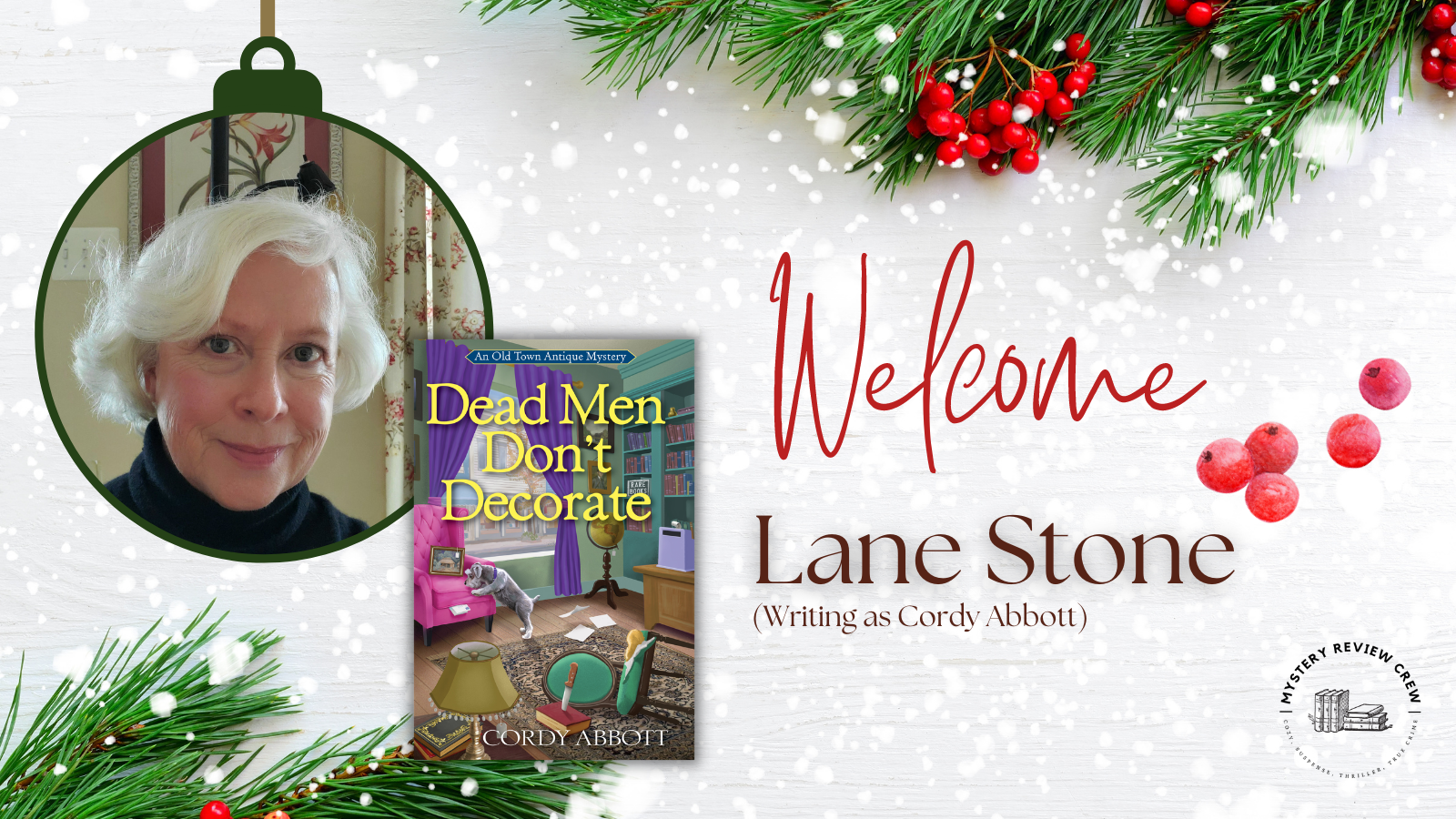 A bit more about Lane Stone:
Proud baby boomer and dog mom, Lane Stone is the author of the upcoming Big Picture Trilogy, with The Collector launching May 2022. This is her first thriller. As Cordy Abbott she is writing the Old Town Antiques Mysteries, with Dead Men Don't Decorate in November, 2022. Her other series are the Pet Palace Mysteries and the Tiara Investigation Mystery series. She lives in Alexandria, Virginia during the week and Lewes, Delaware on the weekend.
When not writing she's enjoying characteristic baby boomer pursuits: traveling, playing golf, volunteering for good causes. Like the Delaware River & Bay Lighthouse Foundation and the American Association of University Women (AAUW). and she serves on several boards.
She has a post-graduate certificate in Antiquities Theft and Art Crime. She loves to hear from readers!
Connect with Lane: https://lanestonebooks.com/

Lane Stone is part of our #MRCGiveaway with her #Mystery Dead Men Don't Decorate!

Art, murder, and a secret dating back centuries collide in Cordy Abbott's delightful cozy mystery series debut, perfect for fans of Jane K. Cleland.
Roberto Fratelli, proprietor of the antiques store Waited4You, is the meanest man in Marthasville, Virginia. So when he puts the business up for sale, the other merchants in town are overjoyed. And now the business has a prospective buyer: local resident and the newly elected mayor's mom, Camille Benson, who's thrilled at the prospect of getting into the antiques business. During a celebration in honor of Camille's new venture, her best friend, Opal, tells her about finding a letter, purportedly from Sally Fairfax to George Washington, dated 1756, hidden under a chair in the shop. When they return to retrieve the cache, they find Roberto's lifeless body on the floor and no letter.
Police question Ella Coleman, Roberto's ex-wife, and discover that her current husband supplied Roberto with oh-so-faux Victorian furniture. Did the two cheat the wrong customer? Or could the murder be connected to an earlier theft of rare books from the shop—a theft Roberto never reported?
As Camille prepares to confront these questions and investigate the murder, she knows she might become the latest knock-off.

📚Add Dead Men Don't Decorate to your TBR:
Goodreads: https://www.goodreads.com/book/show/58978794-dead-men-don-t-decorate? 
BookBub: https://www.bookbub.com/books/dead-men-don-t-decorate-by-cordy-abbott
Amazon: https://amzn.to/3FOALfa #ad
🎄Enter the #Giveaway for the opportunity to win 24 eBooks and a brand new Kindle Fire 8HD!
The Mystery Review Crew Countdown to Christmas!
See more of our Countdown To Christmas featured Authors!