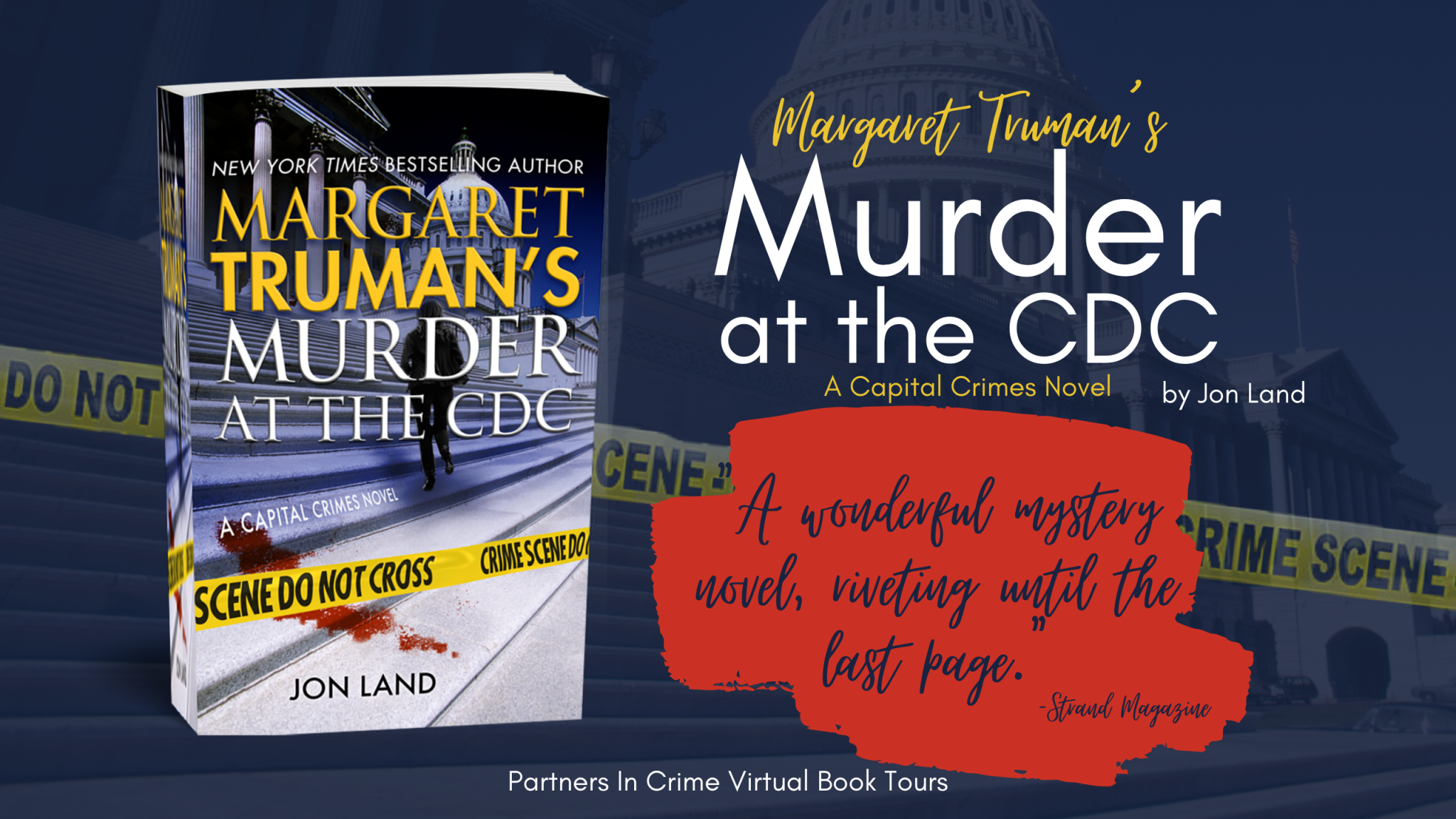 ABOUT THE BOOK
Murder At The CDC

2017: A military transport on a secret run to dispose of its deadly contents vanishes without a trace. The present: A mass shooting on the steps of the Capitol nearly claims the life of Robert Brixton's grandson.

No stranger to high-stakes investigations, Brixton embarks on a trail to uncover the motive behind the shooting. On the way he finds himself probing the attempted murder of the daughter his best friend, who works at the Washington offices of the CDC. The connection between the mass shooting and Alexandra's poisoning lies in that long-lost military transport that has been recovered by forces determined to change America forever. Those forces are led by radical separatist leader Deacon Frank Wilhyte, whose goal is nothing short of bringing on a second Civil War. Brixton joins forces with Kelly Lofton, a former Baltimore homicide detective. She has her own reasons for wanting to find the truth behind the shooting on the Capitol steps, and is the only person with the direct knowledge Brixton needs. But chasing the truth places them in the cross-hairs of both Wilhyte's legions and his Washington enablers.

"A wonderful mystery novel, riveting until the last page."
–Strand Magazine
"A terrific tale that never lets up."
–Sandra Brown
Book Details:
Genre: Political Thriller
Published by: Forge
Publication Date: February 15, 2022
Number of Pages: 304
ISBN: 978-1250238894
Series: Margaret Truman's Capital Crimes, #32 | Each is a stand alone work.
Purchase Links: Amazon | Barnes & Noble | Goodreads
ABOUT THE AUTHOR
JON LAND is the USA Today bestselling author of fifty-eight books, including eleven in the critically acclaimed Texas Ranger Caitlin Strong series, the most recent of which, Strong from the Heart, won the 2020 American Fiction Award for Best Thriller and the 2020 American Book Fest Award for Best Mystery/Suspense Novel. Additionally, he has teamed up with Heather Graham for a science fiction series that began with THE RISING (winner of the 2017 International Book Award for best Sci-fi Novel) and continues with BLOOD MOON, to be published in November of 2022. He has also written six books in the Murder, She Wrote series of mysteries and has more recently taken over Margaret Truman's Capital Crimes series, with his second effort, MURDER AT THE CDC, to be published in February of 2022. Jon is known as well for writing the film DIRTY DEEDS, a teen comedy starring Milo Ventimiglia and Zoe Saldana, which was released in 2005. A graduate of Brown University, he received the 2019 Rhode Island Authors Legacy Award for his lifetime of literary achievements.
Special Guest Post from Jon Land
POP CULTURE PROPHETS
My second entry in Margaret Truman's enduring Capital Crimes series, MURDER AT THE CDC, is a political thriller. Not just any political thriller, mind you, but one that features an insurrectionist plot to take over the United States government. I started the book in August of 2020 and finished it right around Election Day, having no idea how eerily it would resemble the actual events leading up to and on January 6. With that in mind, I thought it would be fun to assemble other times when pop culture has effectively predicted the future. In no particular order, see what you think!
THE CHINA SYNDROME: The movie starring Jack Lemmon, Michael Douglas, and Jane Fonda was released in 1979 and centers around the near meltdown of a nuclear plant was released literally just days after the Three-Mile Island incident during which a nuclear plant came terrifyingly close to, well, melting down. Watching the movie was like watching an expanded background story of the news coverage we all sat on the edge of our seats for during for days, fearing the worst.
CONTAGION: The Matt Damon cautionary tale, released in 2011, is the closest of all "pandemic" films in predicting the effects of COVID-19. The similarities between life and art are eerily similar to the point where if the Trump administration officials who so bungled the initial response had watched the film, they would have been far better prepared to respond by just doing what the professionals in the movie ultimately did.
BLACK SUNDAY: Before he conceived the seminal Hannibal Lecter, Thomas Harris penned this stunner about a terrorist attack launched on the Super Bowl via the Goodyear blimp. Released in 1975 and centering around the terroristsgroup Black September, the book and equally prescient film presaged the depths to which groups like Al Qaeda and ISIS would go in pursuit of their meglomaniacal visions.
NETWORK: If this list was ranked, Paddy Cheyefsky's brilliant satire of all things television is so on point, it's easy to forget it was released way back in 1976. Chronicling a news anchor (brilliantly played by Peter Finch) in the midst of a mental breakdown, "Network" basically predicted the advent of reality television, the 24/7 news cycle, and dominance of news networks—news as entertainment, in other words. This penultimate cautionary tale was not heeded and, as a result, we ended up with a reality TV president for four agonizing years.
DEBT OF HONOR: Tom Clancy's 1994 techno-thriller features jumbo jets crashing into the Capitol and obliterating the nation's leadership. I don't have to tell you what happened 7 years later on 9/11, but it's interesting to note that in the wake of that fateful day a number of thriller writers, including Brad Meltzer and Vince Flynn, were summoned to Washington as part of Operation Red Cell to help "imagine" the next attack. Guess the government had learned its lesson from not heeding Clancy's warning.
2001—A SPACE ODYSSEY: There's so much to cull from the Stanley Kubrick 1968 classic that I don't even know where to start. How about with the disembodied voice of HAL taking verbal commands from Dave and the rest of the crew? Hmmmmm, when was the last time you asked Google or Siri a question on your phone? Speak crossly to Siri and you'll find her responding to being wronged much as HAL did when the crew decided to deactivate him. Let that be a lesson to us all about how we treat our phones.
24: How many times in the television show's original run from 2001-2010 did Jack Bauer track down a bad guy with the help of traffic cameras, ATM cams, and more of the same? Never mind the fact that these were more plot devices than actual surveillance systems, we can now do in reality what "24" envisioned in fiction. The writers had done their research and broken out their crystal balls in predicting a world in which everyone would be under some kind of surveillance pretty much all the time.
TERMINATOR (I & II): The first two films, released in 1984 and 1991 respectively, imagined a future dominated by evil, pilot-less killing machines ruling the skies. All these years later, I wouldn't necessarily call our fleet of drones "killing machines," but they've certainly dispensed their share of death while offering crucial surveillance without risking anyone in the pilot's seat. It's also amazing, when you view drawings that evoke the future of our drone fleet, how closely the objects resemble the "Terminator" drones. Hopefully not as evil, though, of course!
BREAKING BAD: One of the finest television series ever made, the show about a high school chemistry teacher turned methamphetamine manufacturer presaged the entire opioid crisis which is now claiming nearly 100,000 American lives every year. The show's prescience lies not in Walter White's dealings with the cartels and drug networks, so much as in the notion of powerful narcotic drugs permeating the middle, upper-middle and upper crusts while becoming an integral part of everyday American life and culture.
THE TRUMAN SHOW: The mostly forgettable 1998 film starring Jim Carrey is memorable at least for the fact that it highlighted, and pretty much foretold, America's coming obsession with following real people instead of made-up ones. The same could be said, I suppose, for Arnold Schwarzenegger's 1987 "The Running Man," in that respect. Both of these films also got at the fact that "reality TV" wouldn't fade away, but become a permanent fixture and staple of pop culture.
Check out our other mystery Book Reviews and Author Features.