MRC RECOMMENDED MALCONTENT: Lee Harvey Oswald's Confession by Conduct
"ELECTRIFYING, INTRIGUING—adding fuel to a controversy that has blazed for sixty years."
– The Mystery Review Crew
MALCONTENT: Lee Harvey Oswald's Confession By Conduct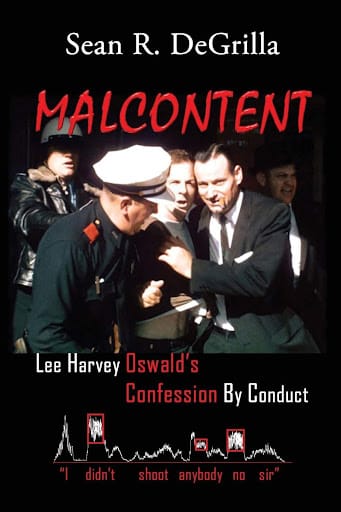 By Sean R. DeGrilla
Genre: True Crime, True Stories, American History
"To understand the Kennedy assassination, it is imperative to first understand Lee Harvey Oswald. The man—who on November 22, 1963—brought a nation to its knees. This book takes the investigation of Oswald's actions and words surrounding the deaths of a President and a police officer in a radically new direction. A law enforcement analysis as seen through the spectrum of Consciousness of Guilt is coupled with the first-ever Computer Voice Stress Analysis of Lee Harvey Oswald.
The personal assassination notes of the Dallas Homicide Detective at the heart of the investigation and handcuffed to Oswald during that fateful shooting are published here for the first time.
Published for the first time, the writings of Michael Paine explores his unique knowledge and political conversations with Oswald. This book sheds new light on a controversy that has raged for over 50 years.
Was Lee Harvey Oswald guilty or a self-proclaimed patsy?"
*Affiliate Links Used
Find it on Goodreads, Amazon, and Bookshop.org
Author Sean R. DeGrilla offers compelling new evidence to a true crime controversy. Well-written and organized, step-by-step DeGrilla guides the reader through events leading up to that fateful day, the horrific events of the assassination of an American President, and the subsequent events, including the murder of Dallas Police Officer J.D. Tippit by Oswald approximately 45 minutes after Kennedy was killed.
DeGrilla provides new details in the personal notes and documentation of Dallas Police Department Homicide Detective James Leavelle. These documents, published for the first time, provide gripping insights from the detective who was handcuffed to Lee Harvey Oswald when Jack Ruby fired the shot that killed Oswald.
The Computer Voice Stress Analysis of Lee Harvey Oswald's words was fascinating. Not only is Oswald's voice after his arrest analyzed, but DeGrilla has included the results of the voice analysis of recorded conversations with Oswald before he ever arrived in Dallas. This new scientific data is difficult to ignore or dismiss.
Whether you are a history buff or conspiracy theorist, the extensive research alone makes this a must-read. DeGrilla has included an impressive array of documents and images, including Lee Harvey Oswald in the ambulance, an astonishing piece of evidence. The details about Lee Harvey Oswald's life and character are riveting.
It doesn't matter if you agree or disagree with the author's conclusions as there is one inescapable fact. The impressive details, research, images, and new technology will resonate with anyone captivated by this decades-old crime.
About The Author Sean R. DeGrilla
"I am a seventeen-year veteran of law enforcement, a Medal of Valor recipient, and have provided material support to the FBI, MBI, Gang Unit and various local, state and Federal agencies. I transitioned to the private sector where I am a security manager for a medical company in Florida.
I possess a B.A. in History and am a member of Alpha Sigma Lambda Honors Society.
Growing up in Dallas, I had a life-long interest in the Kennedy assassination. One of my many personal goals has been to write a scholarly book concerning the events of the assassination. In June of 2019 that goal was realized with the publication of my first book, "Malcontent: Lee Harvey Oswald's Confession By Conduct".
I have dedicated my life to, and have a passion for, inclusive safety and security implementation. I specialize in mitigating hazards, procuring safety and security, and reducing liability by relying on my substantial law enforcement training and experience.
My other passion is writing. My first book is a law enforcement investigative analysis of Lee Harvey Oswald's idiosyncratic criminal behavior via the spectrum of consciousness of guilt, including a history-changing (and first-ever) Computer Voice Stress Analysis of Oswald. I am currently working on my second volume, a reference work containing all of Oswald's known collected writings and the impact of those writings upon history."
For more information, please visit: https://www.seandegrilla.com/