My Animal Muse
Anyone who has read any of my books learns one thing instantly about me: I love, I mean love, animals.
I can't help it. I grew up on a farm surrounded by dogs, cats, cattle, even a pony. I've had animals my whole life. So, it would be only natural that I would choose a dog for my muse.
Or is it the muse who chooses the writer? I'll mark that for another post.
My Animal Muse
I am not the first writer to have a fur-covered muse. Many famous, even iconic, authors have had animal muses.
We need only to look to John Steinbeck's book Travels with Charley, a travelogue. During September 1960, the famous author set out in a pickup truck on a voyage of rediscovery of the American identity, accompanied by a distinguished French poodle named Charley.
I have come to believe that there is a connection between animals and the writers who love them.
As an animal lover, I have noticed a distinct emotional difference between people who love animals and people who don't.
Over the years, I have observed that animal lovers had an empathy for all living creatures (both fur covered and not). Maybe it's that depth of understanding that makes us able to dive deeper into our characters to bring them to life for our readers—something that non-animal lovers lack.
Ernest Hemingway was a great fan of cats. Who would have thought? I would have assumed such a manly man would be a dog person. Nope. Ernest had a soft spot for cats. While living in Cuba, he had over sixty. A favorite, a tabby named Boise, appeared as a character in his book Islands in the Stream.
Thus, I am not the first writer to insert my muses into my books. Only I did it a little bit backwards.
Gnarly, the rambunctious, kleptomaniac German shepherd, made his debut in It's Murder, My Son, the first Mac Faraday mystery, which was released in June 2010. (I can't believe the first Mac Faraday mystery was released 8 years ago. Seems like only yesterday.)
Gnarly was inspired by Ziggy, an Australian shepherd who my son acquired during halftime at a football game. At that time, Tristan was only seven years old. A woman walked up to him and asked if he'd like to hold her puppy. I thought, What harm can come from holding a puppy? As soon as Ziggy was in his arms, the woman said, "He's free!" and she was gone.
Like Gnarly, Ziggy was a kleptomaniac—stealing things from around the house and hiding them in his den under our bed. He was also highly intelligent—so smart that he would get bored, at which time he would get into trouble. I was so inspired by this "devil dog" as my mother used to call him, that I had to insert him into It's Murder, My Son. I changed his name to Gnarly, which means "extreme" and made him a German shepherd.
Gnarly never appeared in the first three drafts of It's Murder, My Son, written before we had adopted Ziggy, who truly was my muse. It was only after Ziggy came into my life that I can truly say I had found my voice as a writer. Readers who have read my first two books, written pre-Ziggy, will find that the tone and writing is different.
Ziggy was my first muse.
Then, the real Gnarly came into my life. After a few years of writing about Gnarly in the Mac Faraday mysteries, I had to get a real one of my own.
My Animal Muse: Gnarly
Talk about doing it backwards: I had created Gnarly, based on Ziggy. Then I got a real Gnarly, naming him after the character I had created based on him.
I adopted Gnarly as a puppy. To our surprise and my husband's horror, like the fictional Gnarly, the real Gnarly could open doors. There was no door he could not open—unless it was locked. He didn't figure out how to pick locks. Round doorknobs, he would clutch in his teeth and turn—putting deep teeth marks in them.
Sadly, Gnarly passed away from canine cancer at four years of age.
At which point, Sterling came into my life to become my third muse.
As Gnarly's health declined from the cancer, I would talk to his breeder, a friend, about his condition, looking for suggestions and or comfort. During our talks, Deb offered to give us a pick of the litter if or when Gnarly passed away. On the day that Gnarly passed away, my husband and I talked about Deb's offer and decided to decline.
So, the day after Gnarly passed, I called Deb to tell her thank you, but no thanks. "We just don't want to deal with a puppy." To which Deb responded, "Well, if you don't want a puppy, maybe you'll be interested in Gnarly's nephew."
Yep, Gnarly's nephew! Gnarly's sister had been adopted by a fellow breeder, who microchipped her puppies. She had people who adopted her puppies sign an agreement stating that they would never turn the dog into a shelter or pound. If for any reason they couldn't keep the puppy, they would return it to her.
Well, Sterling's owners didn't live up to the agreement. In the midst of a nasty divorce, one of them turned Sterling over to the animal shelter one state over—sixty-five miles away from my home—on the same day that Gnarly passed away. It was only because they had never changed the microchip registration that the animal control officer contacted the breeder that one of her dogs was in jail.
The breeder called Deb to vent about her dog landing in a shelter. Deb told me the next day when I called to tell her about Gnarly passing away.
My Animal Muse: Sterling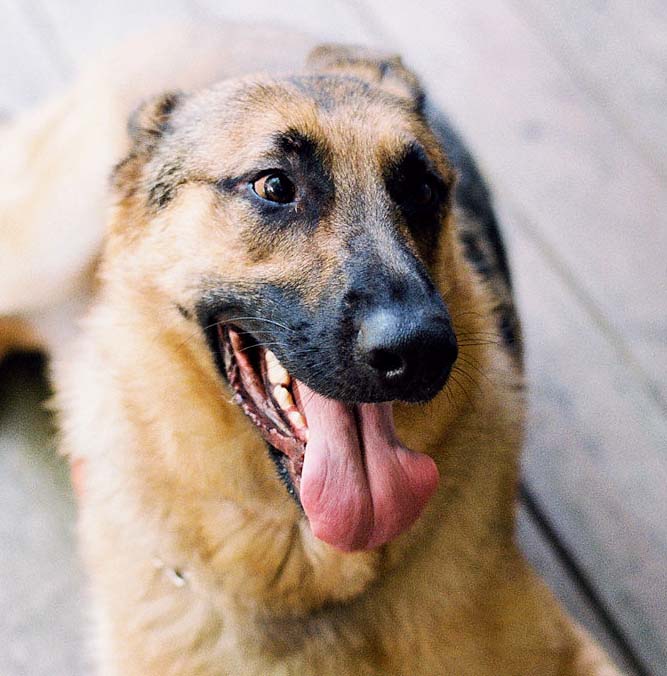 The breeder and I connected via Facebook. As soon as Sterling, who was just about a year old, was available for adoption, I went to the shelter to bail him out.
We connected instantly.
Like his uncle, Sterling is smart and adorable. He is goofier than Gnarly, which makes him a character all his own.
So, it seemed only natural that my third muse would become a character of his own in the Chris Matheson Cold Case Mysteries. His character's back story is based on his true story. Surviving an ambush, Sterling, a law enforcement canine, loses his handler and home on the same day that Chris Matheson loses his beloved German shepherd to old age.
No, Sterling doesn't know how to open doors. But he does know how to cheat at card, which is why he has been banned from the local casinos.
You gotta love these bad dogs!
Do you have a beloved pet? I would love to see pictures! You can tag me on Facebook or message me there.
Until Next time,
Lauren
Lauren Carr
Lauren Carr is the international best-selling author of the Mac Faraday, Lovers in Crime, Thorny Rose, Chris Matheson Cold Case Mysteries, and Nikki Bryant Cozy Mysteries—over twenty-five titles across five fast-paced mystery series filled with twists and turns!
Book reviewers and readers alike rave about how Lauren Carr seamlessly crosses genres to include mystery, suspense, crime fiction, police procedurals, romance, and humor.
The owner of Acorn Book Services, Lauren is also a publishing manager, consultant, and virtual book tour coordinator for independent authors.
Lauren is a popular speaker who has made appearances at schools, youth groups, and on author panels at conventions.
She lives with her husband, and two spoiled rotten German shepherds on a mountain in Harpers Ferry, WV.
Check out