Welcome to the iReads Book Tour for the Annalisse Series! Today we are featuring Book 3 Scattered Legacy!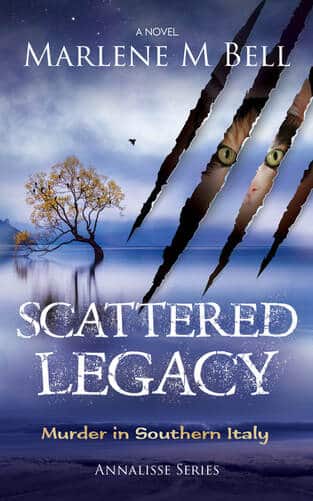 Synopsis:
To outsiders, the relationship between Manhattan antiquities assessor Annalisse Drury and sports car magnate Alec Zavos must look carefree and glamorous. In reality, it's a love affair regularly punctuated by treasure hunting, high adventure, and the occasional dead body.
When Alec schedules a getaway trip to show Annalisse his mother's Italian birthplace, he squeezes in the high-stakes business of divesting his family's corporation. But things go terribly wrong as murder makes its familiar reappearance in their lives – and this time it's Alec's disgraced former CFO who's the main suspect.
Accompanied by friend and detective Bill Drake, Annalisse and Alec find themselves embroiled in a behind-closed-doors conspiracy that threatens the reputation and legacy of Alec's late father – linking him to embezzlement, extortion, and the dirty business of the Sicilian Mafia. The key to it all might be a gifted set of rosary beads where Annalisse can use her skills for appraising artifacts to uncover the truth. She leads Alec toward answers that are unthinkable-and events that will change their futures forever.
Scattered Legacy is the third in Marlene M. Bell's thrilling Annalisse series, which weaves romance, crime, and historical mystery into addictive tales to instantly captivate fans of TV show Bones or Dan Brown's The Da Vinci Code.
Review of Scattered Legacy
As with the first two books in the Annalisse series (Stolen Obsession & Spent Identity) Marlene M. Bells dives right into a rather intriguing mystery.
I LOVED Loved the trip to Italy that Marlene M. Bell took me on in this story. It was very well written and the details she gave made me feel like I was there. Her descriptions were very vivid.
With this trip to Italy, we get a bit more insight into the relationship between Annalisse and Alec. Marlene M. Bell went back and forth between a first-person view and third person view seamlessly and that added some great characters definition.
Add in the Mafia, the rich details, and that climax… and this story adds up to a wonderful conclusion! 
About Marlene M. Bell
Marlene M. Bell is an eclectic mystery writer, artist, photographer, and she raises sheep in beautiful East Texas with her husband, Gregg, three cats and a flock of horned Dorset sheep.
The Annalisse series has received numerous honors including the Independent Press Award for Best Mystery (Spent Identity,) and FAPA— Florida Author's President's Gold Award for two other installments, (Stolen Obsession and Scattered Legacy.) Her mysteries with a touch of romance are found at marlenembell.com. She also offers the first of her children's picture books, Mia and Nattie: One Great Team! Based on true events from the Bell's ranch. The simple text and illustrations are a touching tribute of compassion and love between a little girl and her lamb.
connect with the Author:
website ~ website ~ twitter ~ facebook ~ instagram ~ goodreads
See our Guest Posts From Marlene M. Bell on How to Make Your Novel Stand Out
Giveaway of Scattered Legacy + More
COPPER WATERS Book Tour Giveaway