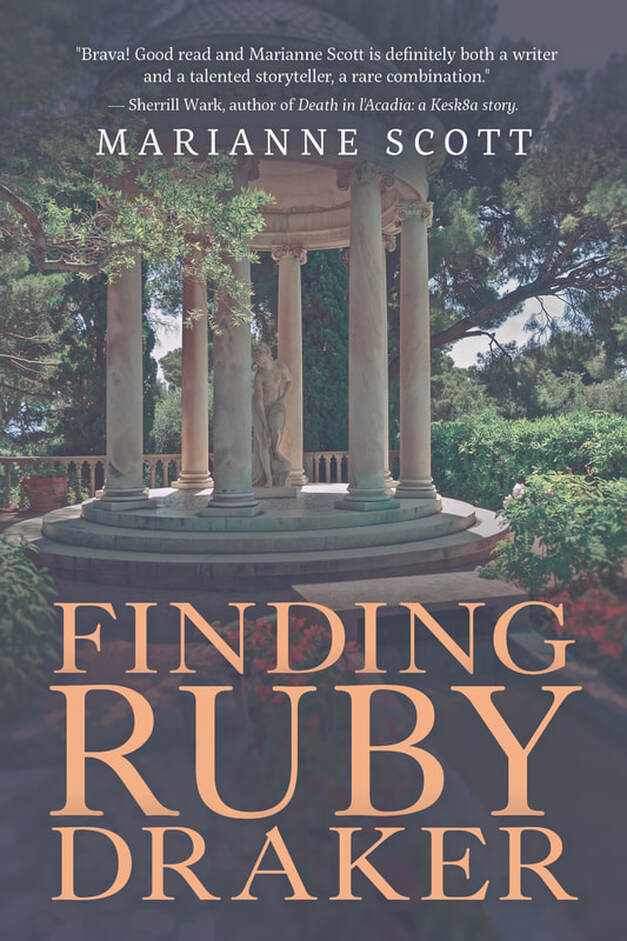 Book Title:  Finding Ruby Draker by Marianne Scott
Category:  Adult Fiction (18+),  330 pages
Genre: Mystery / Thriller
Publisher:  Friesen Press
Release date: Original January 2016. Relaunch March 2022
Content Rating:  PG-13 +M. Occasional Profanity
Book Description:
Kathleen Jones has lived a protected and typical suburban life, nothing unexpected in her carefully controlled and planned existence. She's about to complete her college degree and is ready to start a successful career but after completing her last exam she comes home to find her world has been turned upside down. Her home has been torched and her parents and little brother killed.

If that's not bad enough, she is kidnapped and drugged unconscious by strangers posing as a police officers. When she awakes she discovers that everything has changed – her face, her name, and everything she believed to be true.

But things get worse. Hardly recovered from surgery, she is whisked away under the cover of darkness as more men storm the clinic with guns. It seems that the men who abducted her are not her greatest threat. Now on a private charter on its way to Nice, France, her abductors are calling her Ruby – Ruby Draker!

Finding Ruby Draker is a novel about knowing yourself, accepting change, embracing danger, and taking risks. You never know what life is going to throw at you.
BUY THE BOOK:
Friesen Press Bookstore
Amazon.ca ~ Amazon.com
The Sequel to Finding Ruby Draker: Shadows in the Aftermath
Book Title:  Shadows in the Aftermath by Marianne Scott
Category:  Adult Fiction (18+),  330 pages
Genre: Mystery / Thriller
Publisher:  Friesen Press
Release date:  June 2022
Content Rating:  PG-13 +M. Occasional Profanity
Book Description:

Ruby Draker has found new strength and is ready to move on after Felix Szabo devastated the Draker estate in Nice, France. Three Drakers are dead leaving Ruby in grief and with thoughts of revenge. The Drakers are a family built of survivors; each rescued from Felix Szabo, a psychopath, who sought to murder his former agents at the CIA whom he believed betrayed him. The Drakers' sole mission is to stop Szabo from adding more victims to his list, and although he also perished during the invasion, his legacy continues to haunt them. When the Drakers learn that Robert Draker, presumed dead since the shoot-out at Robert's farmhouse, may be alive and at a rehab clinic in Portland, Maine, the Drakers know it could be a setup, but they have no choice but to try to nd him and bring Robert home.

​Shocked that Robert may be alive, the family head from France to America to find him. It's only when they arrive in the west that they realize finding Robert won't be as easy as they thought. Szabo has found a way to terrorize the Draker family, even after death. His outstanding debt with a Corsican crime family means the Drakers must now find and deliver a shipment of plutonium, which will likely be used by terrorists to create a nuclear bomb, to get Robert back. As Ruby struggles with the decision to save her brother or North America, she must also evade the CIA, who are trying to stop the Drakers from delivering the plutonium.
BUY THE BOOK:
Friesen Press Bookstore
Amazon.ca ~ Amazon.com
About Marianne Scott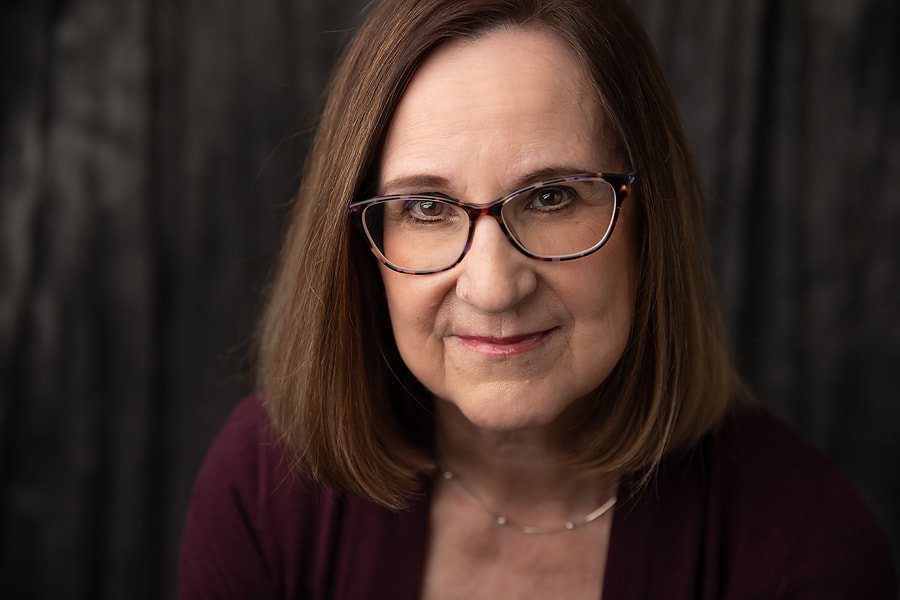 Marianne Scott is the Canadian author of four mystery thrillers and is currently finishing an edit on her fourth novel, a murder mystery. She has a BA and a Diploma in Business Administration from Wilfrid Laurier University in Waterloo, Ontario, CA. She studied creative writing through Conestoga College and Humber College. She enjoys writing workshops such as those offered by Brian Henry, publisher of the blog, Quick Brown Fox, and One Lit Place, a writers' hub by creator/editor Jenna Kalinsky. She has an author's website and blog is the president of The Cambridge Writers' Collective and is a member of the Guelph Genre Writers. In September of 2018, she completed a fourth-year course in Writing Fiction at the University of Guelph under the expert teaching of Lawrence Hill. Her novels, Finding Ruby Draker and Shadows in the Aftermath are self-published. She is actively seeking representation to break into the traditional publishing world with her third and fourth novels.  
Connect with the author: website ~ twitter ~ twitter ~ facebook ~ instagram
Author Interview
The past couple of years has been a challenging time for writers. It has been a time of isolation and restrictions that somehow stifles our creative energy. We get our story ideas from people and the world around us. Being cut off from stimuli is like being blindfolded. Characters and places are the basis of all stories even if we write fiction. Reality translates nicely into stories as we mold our characters into circumstances that bend the world into stories designed purely for our reading pleasure. Restricting our movements and contacts, a writer becomes somewhat handicapped.
Where do you get your story inspiration under these pandemic conditions?
I've found the threat of illness very consuming. It's sort of a writer's block that takes over when contamination could be anywhere. While I realize that being vaccinated and wearing a well-fitting mask lessens the risk, the ever-present danger lingers in the creative process. I did all the necessary actions to avoid infection but I still got Covid. So my writing has suffered. My daily habit has become less consistent, and sporadic at times. Thankfully, doing a little is better than doing nothing. Still yielding yet two novels in progress.
What has been the greatest barrier to writing and publishing when so much of the world has been shut down because of Covid? 
For me, the barrier to writing was emotionally driven by fear and worry. I asked myself why I should bother. I could write a novel only to have it sit in an obscure computer file, never to be read by anyone. Also, as the world shut down, the options for publishing narrowed as well. Literary agents didn't answer queries, probably because the publishing houses took a wait-and-see strategy.
Have readers changed their literary preferences or given up their love of stories?
I have to admit, that my reading slowed down considerably. My beloved book club at my local library stopped meeting due to libraries being closed. Retail stores were also closed. Writing and reading became an optional activities. The arts were put on hold as world waited for solutions to a global pandemic. It was a bleak time for literature.
In this new and restrictive world, what are the best writing tools to stay motivated?
I took solace from the online community of writers. At least this virtual forum still encouraged the arts. But, it wasn't the same as meeting and sharing our material in person. Now as less emphasis is focused on Covid, new material is coming back on the market and new promising writers are being featured again on radio and television. Perhaps it's time to throw our books into the arena and compete for readers again.
You've published two novels. What new material is coming?
Finding Ruby Draker and Shadows in the Aftermath are now released and available for purchase online. I have two more mystery thrillers in progress. Reinhard is a prequel to Finding Ruby Draker and Underneath the Fireflies is set on Canada's west coast, on an island, where a murder takes place. This is a mixed genre novel involving magical realism with a feminist flair, under the guise of a murder mystery. They are targeted for release in 2023.
Thank you SO much for letting us interview you Marianne Scott!
To celebrate the release of the sequel to Finding Ruby Draker, Shadows in the Aftermath iReads is hosting Giveaway!
FINDING RUBY DRAKER/SHADOWS IN THE AFTERMATH Book Tour Giveaway