What are some of your favorite memories of carving pumpkins? Did you ever make a Grim Reaper pumpkin carving? Do your memories involve eating candy and being intrigued by the iky inside of the pumpkin and its seeds? We loved using free pumpkin carving patterns to create easy-to-follow designs for the kids. One of my favorite memories is from back when I was a teacher. I loved cutting open a pumpkin and letting the kids (pre-K) reach inside the pumpkin and getting to see their varying reactions to the stringy, slimy, pumpkin seeds. Their faces were always priceless from squeals of gross to oo's and ahhs as they played with it's singularly odd texture. It was a low cost way for them to learn what the letter P stood for in a tangible way. So in this article, you will find free pumpkin stencils for The Grim Reaper, Frankenstein, Star Wars, a Haunted House, and a few twists on a traditional pumpkin faces. Plus, the haunting audiobooks you should listen to while carving said pumpkins (I mean we are mystery book fanatics after all).
There are so many different ways to carve a pumpkin that I am constantly amazed. Some pumpkin carving ideas are just out of this world, one man in particular Ray Villafane, has quite the reputation for Piccaso-level carving skills involving pumpkin patterns! He creates such lifelike pumpkins you just have to do a double-take to catch all the details he uses in his amazing pumpkin carvings because they are a work of art.
However, for most of us… we just use pumpkin design patterns.
Things you need to carve pumpkins:
Appropriate Pumpkin Carving Tools are subject to age!
A knife like this from Amazon or Hobby Lobby (or what is called an exacto knife)
A large spoon or scoop of some sort to get the guts of the pumpkin out – You can use the guts for some yummy things..
Plastic or a cloth that's durable, because you will probably make a bit of a mess.
A pattern or picture of what you'd like to carve printed out
Tape (or glue dots)
A bowl
​Instructions for Carving a Pumpkin
To start off carving a pumpkin take your knife and cut an octagon shape around the stem, usually, I cut mine at an angle so that the top can easily rest in place again after I'm done carving. Be careful not to cut all the way through the bottom or sides of the pumpkin as you go. Once you've completed the Octegon cut, gently lift off the top you just cut and lay it to the side to re-attach later. Next, grab a bowl and the large spoon or scoop and get all the guts of the pumpkin out. Making sure to scrape the sides of all the sliminess. Once complete you are officially ready to carve your pumpkin!
To do this properly it is best if you print out the pattern with at least two copies, just in case you get the first one wet. You can click on any of these images to download them from the google drive they are attached to. Once you have them printed attach them where you want on your pumpkin with the tape or glue dots; I try to find the latest spot on the pumpkin as it's usually easier to carve. After that take your knife and gently through the paper, working from the center of the design to the outside, trace your design with the knife only inserting it a little. This will give you a base pattern to follow. Once that is finished take off the pattern and then you can cut out the larger items again working from inside to outside of your design not applying too much pressure. Once that is done you can continue to fine tune the details of your pumpkin either using your knife or with the pumpkin carving kit to add more depth and dimension.
Once you are happy with the way it looks you just put the top back on and set your pumpkin out of the sun where people can see it and enjoy your creativity! If you'd like to learn about the spooky history of the Jack O' Lantern check out Searching for Jack by Anita Dickason.
Here are some Halloween Pumpkin Carving Stencils you can use:
First up we have The Grim Reaper Pumpkin Carving Stencils, the Grim Reaper is also known as The Symbol of Death. To use the Grim Reaper Stencil simply carve in the black portions leaving the white as your main design. Each design is free for you to download and print as needed.
We suggest listening to The Dirt on the Ninth Grave by Darynda Jones while carving this pumpkin!
I see dead people. No wait. I take that back. I see people I want dead.
—eCard
Charley Davidson is living in New York City as Jane Doe, a girl with no memory of who she is or where she came from. So when she begins to realize she can see dead people, she's more than a bit taken aback. Strangers who enter the diner where she works seem to know things about her…Then she is confronted by a man who claims to have been sent to kill her. Sent by the darkest force in the universe. An enemy that will not stop until she is dead.…
Next, we came up with Frankenstein's Monster Pumpkin stencils because what's Halloween without this classic tale?
While carving this classic we recommend listening to THE Classic Frankenstein by Mary Shelley, or Mexican Gothic by Silvia Moreno-Garcia.
Mary Shelley's tragic story of a scientist who created a monster is perhaps even more compelling and meaningful today than when it was written nearly two centuries ago. From the bits and pieces of dead bodies, and the power of electricity, the brilliant Victor Frankenstein fashions a new form of life – only to discover, too late, the irreparable damage he has caused.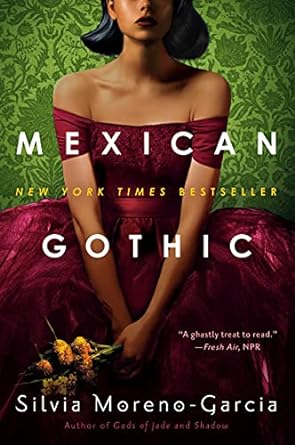 Noemí's only ally in this inhospitable abode is the family's youngest son. Shy and gentle, he seems to want to help Noemí, but might also be hiding dark knowledge of his family's past. For there are many secrets behind the walls of High Place. The family's once colossal wealth and faded mining empire kept them from prying eyes, but as Noemí digs deeper she unearths stories of violence and madness.
Now I know many people are fascinated with all things Star Wars so I thought it would be fun to make a Chewbacca pumpkin, Yoda, and a storm troper!
For this set of pumpkins, we recommend listening to Star Wars: Legends: Coruscant Nights as they have a good mystery to them.
Jax Pavan is one of the few Jedi Knights who miraculously survived the slaughter that followed Palpatine's ruthless Order 66. Now, deep in Coruscant' s Blackpit Slums, Jax ekes out a living as a private investigator, trying to help people in need while concealing his Jedi identity and staying one step ahead of the killers out for Jedi blood. And they're not the only ones in search of the elusive Jax. Hard-boiled reporter Den Dhur and his buddy, the highly unorthodox droid I-5YQ, have shocking news to bring Jax–about the father he never knew.
And you can't have a happy Halloween without seeing at least one haunted house right? I love doing the intricate designs of haunted houses. However, this one is definitely not beginner-level and will take some time to complete.
Now this one was a hard recommendation to narrow down. There are just so many books that have haunted houses in them, but we managed it. We recommend reading The Overnight Guest by Heather Gudenkauf or The House on Foster Hill by Jaime Jo Wright
True crime writer Wylie Lark doesn't mind being snowed in at the isolated farmhouse where she's retreated to write her new book. A cozy fire, complete silence. It would be perfect, if not for the fact that decades earlier, at this very house, two people were murdered in cold blood and a girl disappeared without a trace.
As the storm worsens, Wylie finds herself trapped inside the house, haunted by the secrets contained within its walls—haunted by secrets of her own. Then she discovers a small child in the snow just outside. After bringing the child inside for warmth and safety, she begins to search for answers. But soon it becomes clear that the farmhouse isn't as isolated as she thought, and someone is willing to do anything to find them.
Kaine Prescott is no stranger to death. When her husband died two years ago, her pleas for further investigation into his suspicious death fell on deaf ears. In desperate need of a fresh start, Kaine purchases an old house sight unseen in her grandfather's Wisconsin hometown. But one look at the eerie, abandoned house immediately leaves her questioning her rash decision. And when the house's dark history comes back with a vengeance, Kaine is forced to face the terrifying realization she has nowhere left to hide.
A century earlier, the house on Foster Hill holds nothing but painful memories for Ivy Thorpe. When an unidentified woman is found dead on the property, Ivy is compelled to discover her identity. Ivy's search leads her into dangerous waters and, even as she works together with a man from her past, can she unravel the mystery before any other lives – including her own – are lost?
Lastly, we can't end without the classic pumpkin faces! There are so many ways to carve a face into a pumpkin so here are a few classics and new patterns to choose from!
For this one we found some cute mysteries with pumpkins on the covers! A Halloween Homicide by Tonya Kappes and Death by Pumpkin Spice by Alex Erickson
It's spooky season in Holiday Junction and Halloweenie Festival is a hauntingly great time.
Holiday Junction really knows how to throw holiday festivals, and it goes all out for Halloween.
The weeklong celebration includes a ghost walk of haunting tales, a hay ride, carnival games, pumpkin carvings and costume party.
Violet Rhinehammer has the perfect assignment—represent the Junction Journal by attending all the fun festive activities and reporting on them.
As if a run-in with an old flame and a failed marriage proposal weren't enough to horrify Krissy for one night, a woman is found strangled to death in a room filled with ominous jack-o'-lanterns. All signs suggest a crime of passion – but when the hostess's jewelry disappears, malevolent intentions seem way more likely.
With the estate on lockdown and a killer roaming the halls, Krissy must help Officer Paul Dalton investigate each nook, cranny, and guest for answers – while also confronting a few demons of her own. Someone has lots of skeletons in the closet, and Krissy better tread lightly to expose them.
​Helpful Tips for a Great Pumpkin Carving Experience:
Preserve Your Pumpkin: To extend the life of your carved pumpkin, consider using a pumpkin preservative spray or petroleum jelly on the cut edges. Keep your pumpkin in a cool, shaded area when not on display, as direct sunlight and warmth can cause it to deteriorate more quickly.
Illuminate Creatively: Traditional candles can be used to light up your pumpkin, but there are other creative options as well. LED tea lights are a safe and convenient choice, and you can even use colored LED lights to add a unique twist to your design.
Get the Whole Family Involved: Pumpkin carving is a fantastic family activity. Invite everyone to participate, from young children creating simple designs to older family members tackling more intricate patterns. It's a great way to bond and create lasting memories together.
Embrace Imperfections: Remember that each pumpkin is unique, and small imperfections in your carving can add character and charm. Don't be discouraged by minor mistakes; they can make your pumpkin even more endearing.
---
Pumpkin carving is an autumn tradition that brings out the creativity in all of us. Whether you're a seasoned pro or a first-time carver, the key is to have fun and let your creativity shine. With the right tools, a bit of patience, and some free pumpkin carving patterns, you can create stunning pumpkin masterpieces that will impress your family and neighbors alike.
So, gather your pumpkins, grab your carving tools, and let your imagination run wild. As the cool breeze of October sweeps in and the leaves crunch beneath your feet, embrace the magic of fall and the artistry of pumpkin carving. And don't forget to share your creations with us at @mysteryreviewcrew; we can't wait to see your spooktacular designs!
As you display your carved pumpkins on your doorstep, let them light the way for trick-or-treaters and welcome the Halloween spirit into your home. Happy carving, and may your Halloween be filled with laughter, creativity, and a touch of mystery!
Be sure to check out all things October Fest on The Mystery Review Crew!