Today we are welcoming Daryl Wood Gerber aka Avery Aames!!
If you're a fan of #CozyMysteries & Cats you will be in heaven!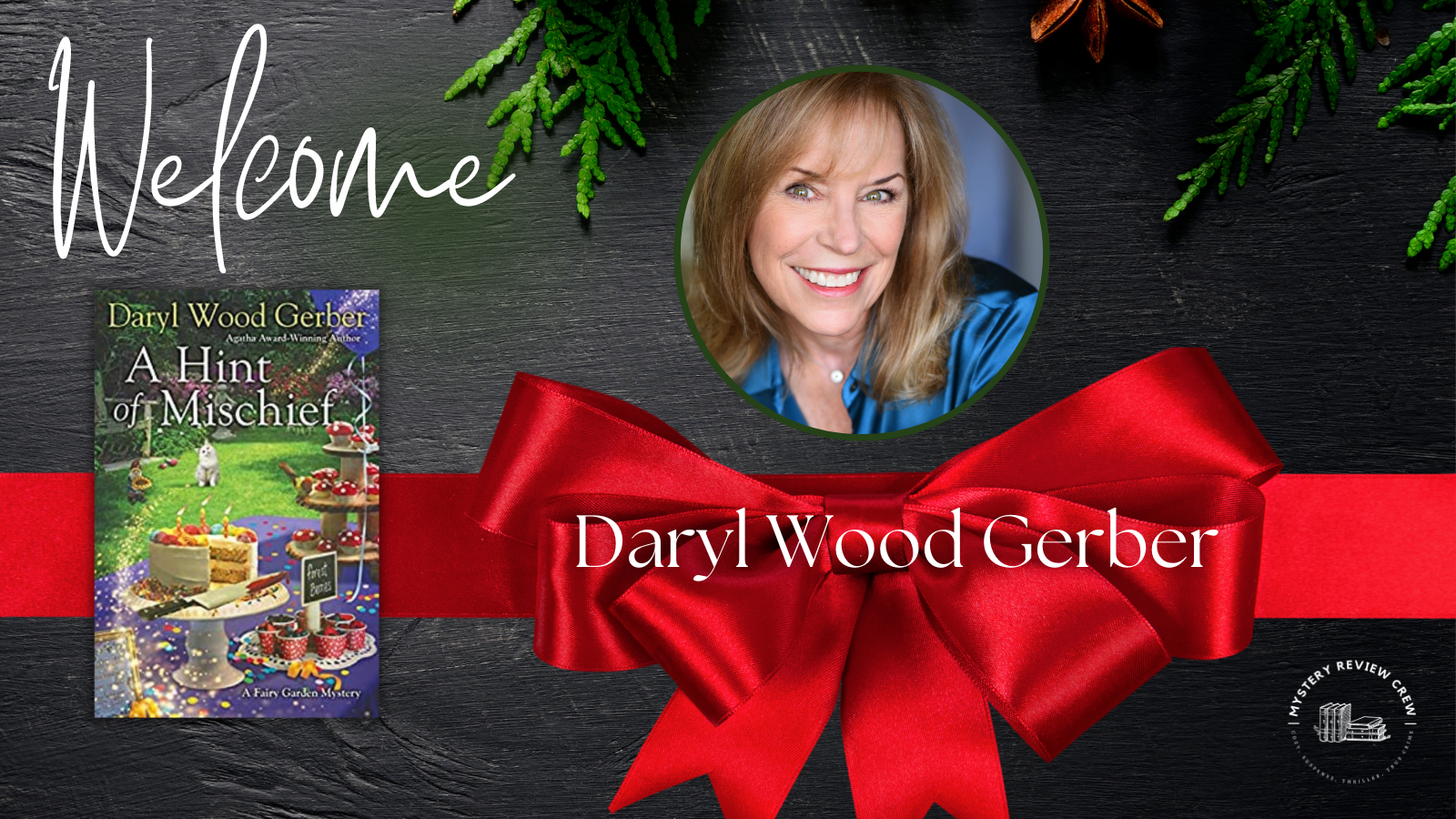 A bit more about Daryl Wood Gerber:
Daryl Wood Gerber is the Agatha Award-winning, nationally bestselling author of of The Fairy Garden Mysteries, featuring a fairy garden shop owner in charming Carmel, California, The French Bistro Mysteries, featuring a former chef who is now an up-and-coming bistro owner in Napa Valley, and The Cookbook Nook Mysteries, featuring an admitted foodie and owner of a cookbook store in picturesque coastal California. Under the pen name Avery Aames, Daryl writes the Agatha Award-winning, nationally bestselling The Cheese Shop Mysteries set in fictional Providence, Ohio. Daryl also writes suspense novels, including the Aspen Adams books and standalones, which have garnered terrific reviews.
Prior to her career as a novelist, Daryl wrote screenplays and created the format for the popular TV sitcom Out of this World. A fun tidbit for mystery buffs, Daryl was also an actress and co-starred on Murder, She Wrote, as well as other TV shows. Daryl is originally from the Bay Area and graduated from Stanford University. She loves to cook, read, golf, swim, and garden. She also likes adventure and has been known to jump out of a perfectly good airplane.
Connect with Daryl Wood Gerber: https://darylwoodgerber.com/
Daryl is part of our #MRCGiveaway with the A Hint of Mischief!
About A Hint of Mischief:
The he proprietor of a fairy garden and tea shop in Carmel-by-the-Sea, Courtney Kelly has an occasional side gig as a sleuth–with a sprinkling of magical assistance. . . .
Courtney has thrown a few fairy garden parties–for kids. But if a local socialite is willing to dip into her trust fund for an old sorority sister's fortieth birthday bash, Courtney will be there with bells on. To make the job even more appealing, a famous actress, Farrah Lawson, is flying in for the occasion, and there's nothing like a celebrity cameo to raise a business's profile.
Now Courtney has less than two weeks to paint a mural, hang up tinkling windchimes, plan party games, and conjure up all the details. While she works her magic, the hostess and her girlfriends head off for an indulgent spa day–which leads to a fateful facial for Farrah, followed by her mysterious death. Could the kindhearted eyebrow waxer who Farrah berated in public really be the killer, as the police suspect? Courtney thinks otherwise, and with the help of her imaginative sleuth fairy, sets out to dig up the truth behind this puzzling murder . . .
Add A Hint of Mischief to your TBR:
Goodreads: https://www.goodreads.com/…/59120614-a-hint-of-mischief?
BookBub: https://www.bookbub.com/…/a-hint-of-mischief-a-fairy…
Amazon: https://amzn.to/3HjRFUb#ad
Enter the #Giveaway for the opportunity to win 24 eBooks and a brand new Kindle Fire 8HD!
The Mystery Review Crew Countdown to Christmas!
See more of our Countdown To Christmas featured Authors!